Tyrion Lannister Raps A '00s Classic In This Bonkers 2018 Super Bowl Ad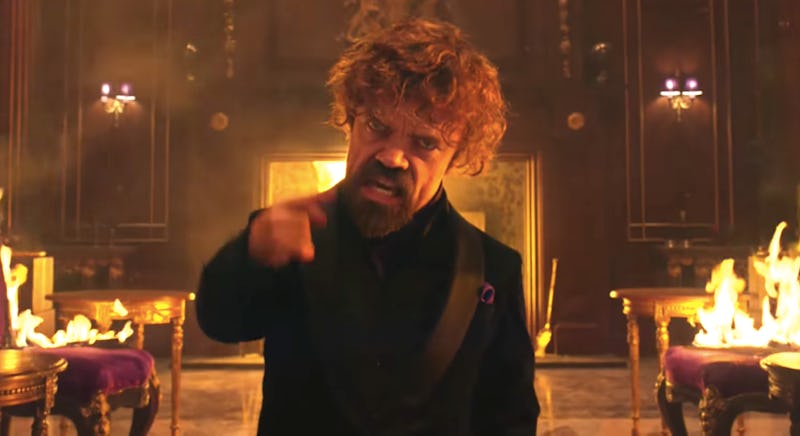 Youtube/Doritos Blaze vs. Mtn Dew Ice
He is spitting fire, just not the dragon kind. Still, Peter Dinklage's 2018 Super Bowl commercial for PepsiCo will become the new obsession of any Game of Thrones fan. The latest ad in Doritos Blaze vs. Mountain Dew Ice's Super Bowl commercial series shows Dinklage lip-syncing to Busta Rhymes' impossible verse in Chris Brown's "Look At Me Now" with backup by Busta. All of this goes down in a fiery room that might as well be straight out of GoT and the whole thing is incredible.
Dinklage doesn't miss beat and of course isn't intimidated by the blaze around him. Meanwhile, Morgan Freeman battles him and lip-syncs Missy Elliot's "Get Your Freak On" with a cameo by Missy as well. The commercial may not be Game of Thrones-themed, but it's close enough to get fans excited. And, if we're talking television, this one-minute goodness definitely gives Lip Sync Battle a run for its money.
Before the rap battle between Dinklage and Freeman began to go down, two teaser ads leading up to the showdown were released a week prior. The first, called "Face Off," shows Dinklage and Freeman in, well, a brief but intense face off. The second, "Tongue Twister," shows the two prepping in separate rooms to loosen up through tongue twisters with Busta Rhymes and Missy Elliot to there to help them. The latest, "Doritos Blaze vs. Mtn Dew Ice" is probably some of Dinklage's finest work.
Super Bowl ads are basically a sport, and Dinklage is definitely winning. His lip-syncing is mesmerizing and fans are realizing that Dinklage's rap career is the piece of their lives they didn't even know was missing.
People are totally here for this epic and totally unexpected combination.
Although his fiery setup was more risky than Freeman's ice cold one, Dinklage totally supported the commercial and the method behind the madness. "It was really thrilling and quite scary in the moment... The fire is as close to me as you think," Dinklage told Yahoo. "Morgan Freeman is as cool as it gets, so it kind of makes sense." The actor also told the publication that this certainly wasn't his first time taking the stage to perform music.
Game of Thrones fans may not know that Dinklage was in a New York "punk rap" band called Whizzy back in the '90s. "We were a lot of fun," he recalled to Yahoo, saying the band performed in empty warehouses and bars. He also claimed he grew up loving artists like Beastie Boys and Arrested Development, and realized just how complex rapping can be when shooting this commercial.
"Back when I used to write songs, I would just do simple rhymes. Busta does these play-on-words rhymes... he'll rhyme 'cocky' with 'floppy,'" Dinklage said. "They work so well in his style and really open up the world of rhyme. But getting those right in my head were tricky, and the rhythm kept changing too. I would have to triple-time it!" No one would know, because he crushes it, and taking on that challenging verse is only for the brave.
As expected, tons of celebrities are partnering with brands to star in Super Bowl commercials and will be seen by the 111 million viewers watching. Matt Damon is starring in a Stella commercial, Tiffany Haddish is in a Groupon ad, Keanu Reeves is with Squarespace, Bill Hader with Pringles, and Danny DeVito with M&M's.
So far, Dinklage is holding it down for the Game of Thrones crew at Super Bowl, and he's going all the way in with his flaming hot stint. "As an actor, I can be too complacent and pampered; you've got to light yourself on fire occasionally," he continued to Yahoo. After all, that's the only way to do it when you're coming out of Game of Thrones.