Peter Dinklage's Comments On His Last Day Shooting 'Game Of Thrones' Shouldn't Worry Fans, Much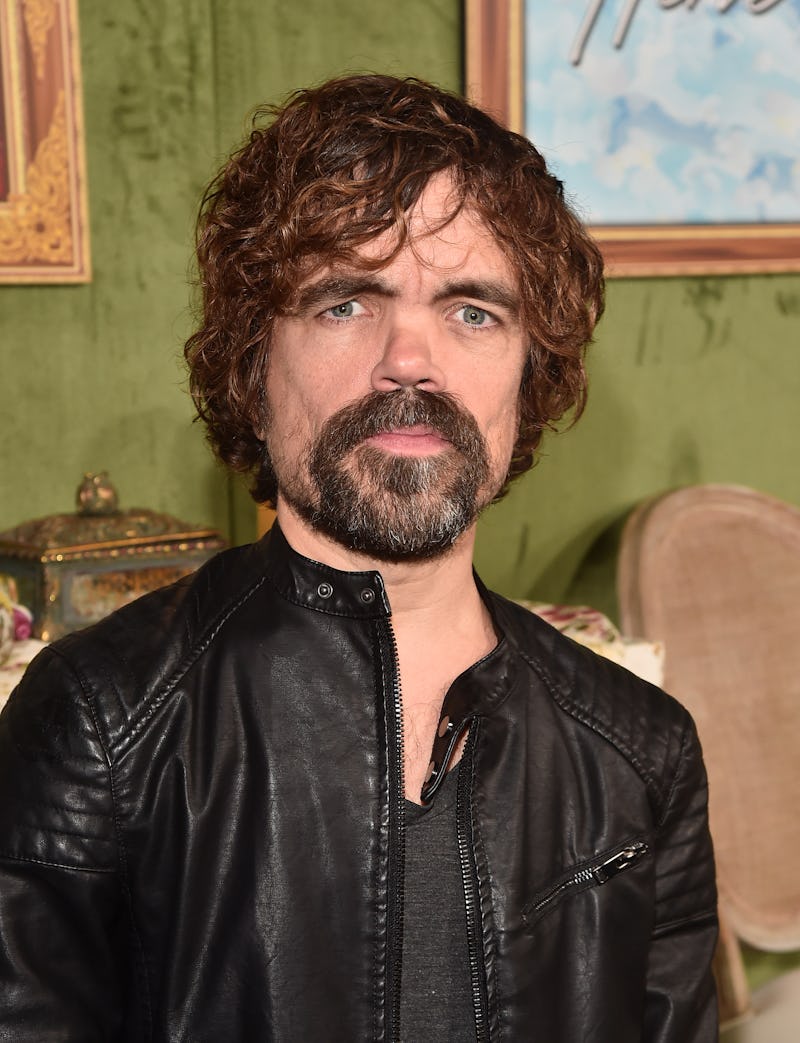 Alberto E. Rodriguez/Getty Images Entertainment/Getty Images
Game of Thrones fans have a love-hate relationship with the show. It's almost a fact at this point, given how many murders have taken place, how much carnage we've had to witness, and also the fact that all the Stark children haven't been in the same room together since Season 1. How can fans not get a little peeved now and then? Well, if you're ready another "Ugh" moment, Peter Dinklage's comments on his last day filming Game of Thrones will do just that.
In a recent interview with Vulture to promote his new movie My Dinner With Herve, Peter Dinklage shared some insight into what the end of GoT holds for his character, Tyrion Lannister, and opened up about his final day on set. "It's always anticlimactic for the character's last day," he said about his last time as Tyrion. "Nothing is shot chronologically, so you don't get some big mountaintop scene or anything. It's just, 'That's a wrap on Peter Dinklage.'"
So, it doesn't sound like Dinklage's last day was particularly memorable in terms of Tyrion's onscreen journey. Still, while it may have been "anticlimactic," the actor said his last day shooting Game of Thrones Season 8 wasn't without sorrow. "But as anticlimactic as it was, my last day was also beautifully bittersweet. A lot of people whom I love were on set that day. Even if they weren't working, they came to set, which was beautiful."
In the interview, Dinklage didn't just talk about his final day on set; he also hinted at what could be Tyrion's last day. When asked about how he feels about Tyrion's Season 8 ending, Dinklage said:
"I feel very, very — I'm trying to find the right word. I think he was given a very good conclusion. No matter what that is — death can be a great way out."
"Death can be a great way out" certainly sounds like Tyrion could die in Season 8, but then again, Dinklage could just be teasing us. This isn't his first time he has hinted at Tyrion and an inevitable death in Season 8. During a recent interview with Entertainment Tonight, Dinklage said, "It ends beautifully for my character whether it be tragic or not." That little "tragic or not," compounded with these new comments paint a possibly dark picture for fans of the youngest Lannister.
Regardless of whether or not Tyrion does die in Game of Thrones, when the time comes for fans have to truly say goodbye to their favorite characters — dead or alive — it's going to be really tough. Speaking with Vulture, Dinklage admitted that there were certainly moments like that for the cast and crew, too. "If it was their day, you would go to set to say good-bye. It was really hard," he said. The actor continued, describing a particularly rough goodbye with one of the younger members of the cast:
"I won't say their name or their character's name, but one of the young people on the show wrapped this past season and everybody was a wreck. This person had grown up on the show, you know? They were a child and now they were an adult. And then they're done. It's like we were witnessing this person saying good-bye to their childhood. I know Game of Thrones is just a TV show, la-di-da, but it was our life."
While it's going to be rough for fans to get through the final season of one of the most epic shows of the decade (or possibly ever), it's even more rough for the actors and crew members who worked on it. Hopefully that will give fans some perspective as they grieve the inevitable deaths that will befall the characters of Game of Thrones when Season 8 finally concludes the series.