This New LGBTQ+ Flag Recognizes Queer People Of Color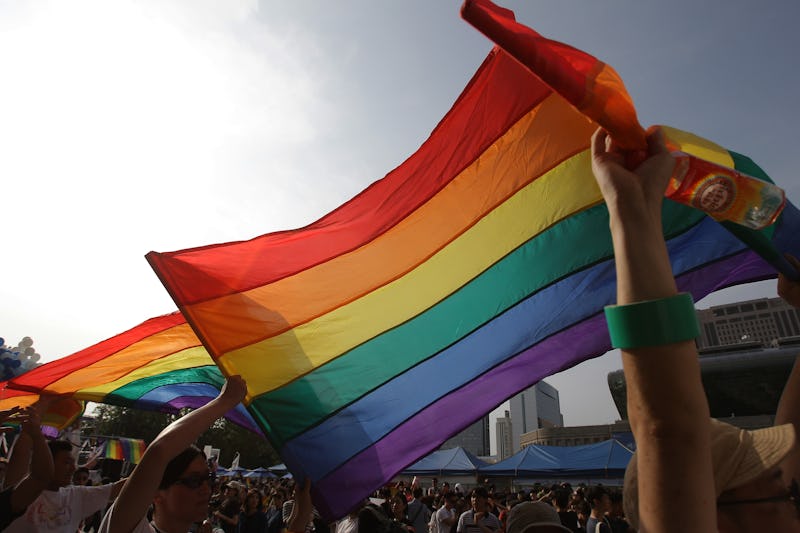 Chung Sung-Jun/Getty Images News/Getty Images
The rainbow flag is inarguably the symbol of the LGBTQ+ movement, but it might not have fully represented the community — until now. This new rainbow pride flag has black and brown stripes to represent the black and brown communities that form the bedrock of the larger LGBTQ+ community, and it's a statement that is especially necessary right now.
The organization behind the new flag design is called More Color More Pride, sponsored by the city of Philadelphia's Office of LGBT Affairs. "The black and brown stripes are an inclusionary way to highlight Black and Brown LGBTQIA members within our community," an anonymous source close to the flag-raising ceremony told Philadelphia Magazine's LGBTQ-focused outlet G Philly. "With all of the Black and Brown activism that's worked to address racism in the Gayborhood over the past year, I think the new flag is a great step for the city to show the world that they're working toward fully supporting all members of our community."
The original flag, designed in 1978 by artist Gilbert Baker, was meant to be an original, historically unburdened symbol. At the time, many LGBTQ+ people were appropriating the pink triangle that the Nazi party used to identify gay people during the Holocaust, but Baker rejected the violence this symbol also represented. The rainbow symbol is adaptable to the needs of the community, and right now, people need to strongly state their support for LGBTQ+ people of color.
It's also especially awesome that the black and brown sit at the top of the rainbow because it shows the respect and importance that LGBTQ+ people of color deserve within the community. For a long time, there's been a racial hierarchy within the community, perpetuated in recent years by the corporatization and commoditization of LGBTQ+ identities.
But the reality remains that queer POC retain much of the remaining social burden of LGBTQ+ identities. That additional struggle associated with their racial or ethnic identity means that they deserve additional recognition by the community, and white allies within the LGBTQ+ community should be proud to adopt this new symbol.
Just like the LGBTQ+ community deserves unique culture and recognition, queer communities of color do as well. After all, the modern LGBTQ+ rights movement was started by trans women of color Marsha P. Johnson and Sylvia Rivera at the Stonewall Riots. How better to honor their legacy than to stitch the color of their skin into the symbol of the movement they started?