These Photos From The Charlottesville Protest Are Horrifying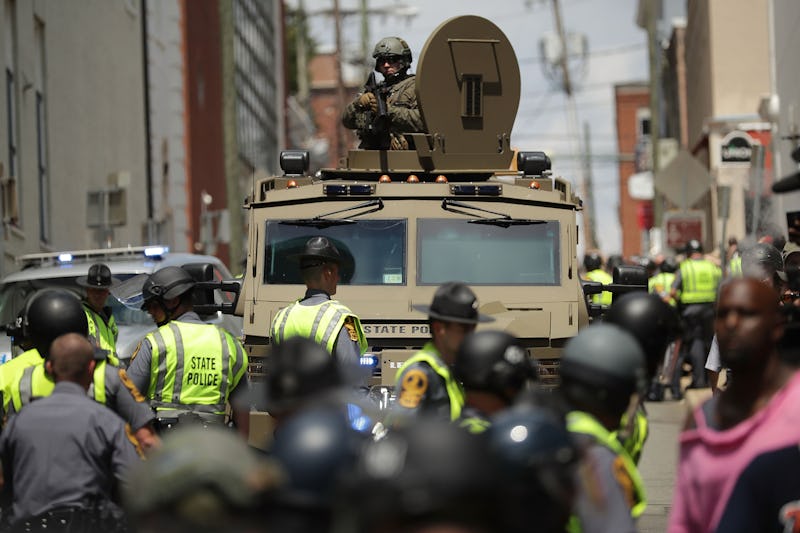 Chip Somodevilla/Getty Images News/Getty Images
On Friday night, throngs of white nationalist and neo-Nazi demonstrators descended on the campus of the University of Virginia, marching with torches to oppose the removal of a Confederate-era monument from the college grounds. The next day, the white nationalist "Unite The Right" rally was in full swing, and the photos of the Charlottesville protest show how violent the clashes were between protestors and counter-demonstrators faced-off against each other.
On Saturday, a state of emergency was declared in after a car crashed into a group of the assembled counter-protesters, reportedly leaving multiple people injured. One person was reported dead. The real-time footage of the crash is graphic and disturbing in the extreme, and as such, it won't be presented here ― if you want to watch it, you can find it all over social media.
There have been a lot of images of the protest circulating on Twitter, as well as ones snapped by professional photojournalists, and they all give some visual insight into exactly what went on at the protest. To be perfectly clear, to say that the protestors were white supremacists is no exaggeration ― some of the people initially demonstrating in defense of the Confederate monument have been spotted openly displaying swastikas. Here are some images from Charlottesville over the last 24 hours.
1. Anti-Racist Demonstrators
The streets in Charlottesville were thick both with white supremacist and neo-Nazi protesters, and anti-racist counter-protesters.
2. End White Supremacy
The protests and violence came less than 24 hours after a white supremacist demonstration at the University of Virginia, opposing the removal of a Confederate monument.
3. Swastikas On Display
The far-right, neo-Nazi protesters were spotted openly displaying swastikas, among other overtly racist iconography.
4. Against White Supremacy
They were met with a huge number of counter-protesters, marching and demonstrating in explicit opposition to white supremacy and neo-Nazism.
5. Violence Broke Out
According to reports, 19 people were injured after a car plowed into a crowd of anti-racist demonstrators.
6. The Attack Was Swift And Brutal
Additionally, one person was confirmed dead in the car attack, although their identity is not yet known.
7. The Attacker Has Been Apprehended
According to reports, the person who drove the car into the mass of counter-protesters is now in police custody.
8. It Left Carnage In Its Wake
As you can see, the scene in the aftermath of the attack was confused and chaotic, as law enforcement tended to the injured victims. In simple terms, this was one of the darkest days yet of racism and white supremacy under the Trump administration, and it's one that's not likely to be forgotten for a very long time.