Photos From The Stonewall Protest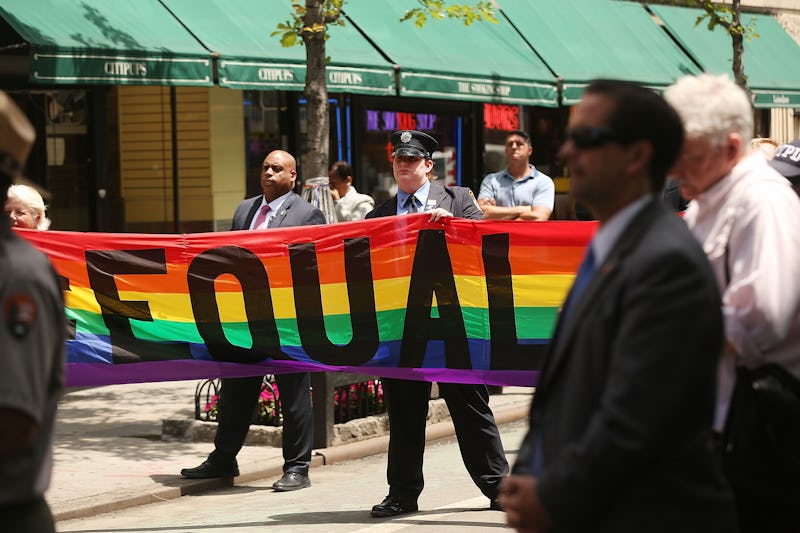 Spencer Platt/Getty Images News/Getty Images
On Saturday, hundreds of protesters congregated outside New York City's Stonewall Inn, the site of the violent 1969 riots that sparked the gay rights movement in America. Although held in front of one of the most iconic symbols of gay rights, Saturday's rally was not solely about LGBTQ issues. Instead, protesters took a stand against President Donald Trump and his most recent policies, including the now-suspended travel ban that targeted people from Muslim-majority nations.
Saturday's LGBT Solidarity Rally was sponsored by dozens of local and national progressive groups, including Equality New York, GLAAD, the National LGBTQ Task Force, the New York State Immigrant Action Fund and Lambda Legal. Governor Andrew M. Cuomo and Mayor Bill de Blasio were also listed as sponsors on the event page.
The rally's Facebook event page said the rally would be a solidarity event in the wake of Trump's concerning policies on immigration and travel:
[To] stand in solidarity with every immigrant, asylum seeker, refugee and every person impacted by Donald Trump's illegal, immoral, unconstitutional and un-American executive orders. We will also speak out against Trump's selection of the most anti-LGBT nominees and appointees in modern history.
Photos from the event show demonstrators with signs bearing the rainbow flag — the symbol of the gay rights movement — and words of love and peace. Videos posted on Twitter show protesters outside Stonewall chanting, "refugees are welcome here."
Refugees Are Welcome
Alternative Facts
Resist With Creative Anti-Trump Signs
We Resist
The Huffington Post reported the Sen. Chuck Schumer of New York addressed the Stonewall rally. ""We are going to do everything to ensure that the Supreme Court does not turn the clock back to the 1960s or the 1920s," Schumer reportedly told the crowd. "We are going to fight."