These Photos From The Border Show The Stark Reality Of What's Happening Right Now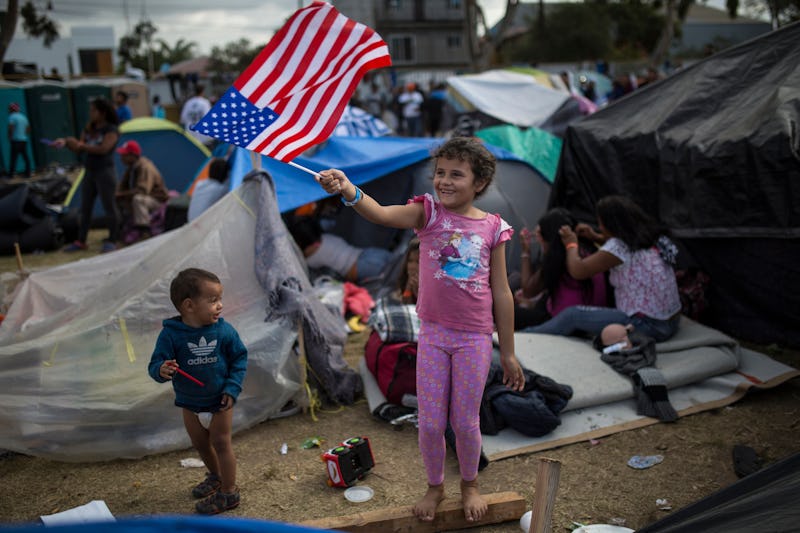 Rodrigo Abd/AP/Shutterstock
The U.S.-Mexico border was temporarily closed this weekend after approximately 500 migrants attempted to enter the United States, according to CNN. Photos of the U.S-Mexico border show just how congested the area around the San Ysidro crossing has become, as cars line up in rows, and thousands of migrants wait to see if they will be allowed to enter the country.
On Monday, President Trump threatened to close the border indefinitely, and derided the migrants as "stone cold criminals." The president often accuses migrants of being criminals, but he does not offer any proof supporting his claim, which he tweeted out early in the day.
"Mexico should move the flag waving Migrants, many of whom are stone cold criminals, back to their countries," the president tweeted. "Do it by plane, do it by bus, do it anyway you want, but they are NOT coming into the U.S.A. We will close the Border permanently if need be. Congress, fund the WALL!"
The president's comments came less than a day after U.S. used tear gas in an attempt to disperse those migrants charging the border. Secretary of Homeland Security Kirstjen Nielsen defended the decision in a series of tweets on Sunday night, and said that she would not hesitate to shut down points of entry as she saw fit.
"This AM, @CBP was forced to close the #SanYsidro POE to ensure public safety in response to a large # of migrants seeking to illegally enter the US," she wrote. "They attempted to breach legacy fence infrastructure along the border & sought to harm CBP personnel by throwing projectiles @ them. @DHSgov will not tolerate this type of lawlessness & will not hesitate to shut down POEs for security reasons."
She added that DHS would "prosecute to the fullest extent of the law anyone who destroys federal property, endangers our frontline operators, or violates our sovereignty."
Although Nielsen was stalwart in her decision, the tear gas use prompted swift and fierce condemnation from critics. Many questioned why asylum seekers were being treated like criminals.
"Asking to be considered a refugee & applying for status isn't a crime," tweeted representative-elect Alexandria Ocasio-Cortez. "It wasn't for Jewish families fleeing Germany. It wasn't for targeted families fleeing Rwanda. It wasn't for communities fleeing war-torn Syria. And it isn't for those fleeing violence in Central America."
Angelica Salas, executive director for the Coalition for Humane Immigrant Rights (CHIRLA) told the Los Angeles Times in a statement that using tear gas on the migrants was "despicable."
"It is a despicable act on the part of the Trump administration and CBP officials to attack defenseless women and children firing tear gas, a chemical agent, at them," she said in the statement. "These are human beings who are reaching a point of desperation because their asylum claims are being processed at a snail's pace or not at all."
The fact that children were at the border where tear gas was deployed is of particular concern. Dr. Rohini Haar, a medical expert for Physicians for Human Rights, told Bustle that tear gas can affect children more than adults — not to mention the fact that the children at the border are likely already suffering from violence and trauma.
"It seems to me that responsible members of the U.S. government would want to mitigate the trauma that these children have experienced rather than worsen it," she said.
Immigration to the United States has long been an issue for the Trump administration. Tensions have only amplified since April, as DHS has instituted widely-criticized policies in an attempt to tighten the border. What will ultimately happen to the thousands of migrants currently stationed in Mexico remains unclear.