These 17 Photos From The 2018 Scripps National Spelling Bee Are Too Cute To Handle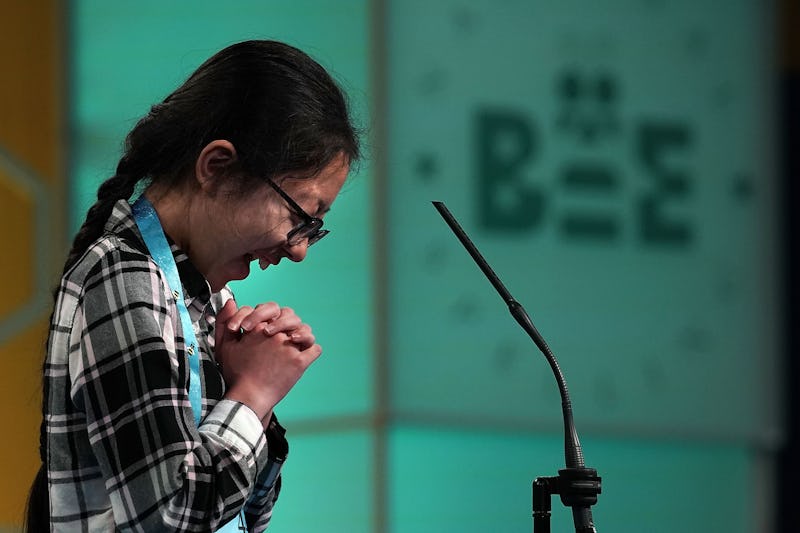 Alex Wong/Getty Images News/Getty Images
Every year, Americans get to see some of the youngest and brightest minds shine on stage as they spell some undeniably tough words, like "myriacanthous" or "trypanosomiasis." This year's 2018 Scripps National Spelling Bee's photos establish what is pretty much truth by now: that these spellers are not only skilled at tacking formidable, sometimes obscure words, they're also simply adorable.
Photos taken at the Gaylord National Resort and Convention Center in National Harbor, Maryland, showed how spellers from the record-breaking crowd of 519 participants wowed their audience with their linguistic command. From 15-year-olds to participants as young as 8, the 2018 Scripps National Spelling Bee featured great talent from across the country.
This year's youngest participants were two 8-year-olds, Sivasaipraneethreddy Devireddy of North Carolina and Akash Vukoti of Texas. In profiles meant for each participant, the official website for the Scripps National Spelling Bee gave readers a glimpse into the hobbies, television shows, food, and other things that the spellers loved. In one instance, young Vukoti listed his favorite athlete as the one and only LeBron James.
It goes without saying that the competition is a nerve-wracking experience, but it looks like the kids handled it with confidence. Here are some of the most evocative, heartwarming, and amusing photos from the 2018 Scripps National Spelling Bee.