The Photos Of A Puerto Rico Memorial Protesting Hurricane Maria's Death Count Will Move You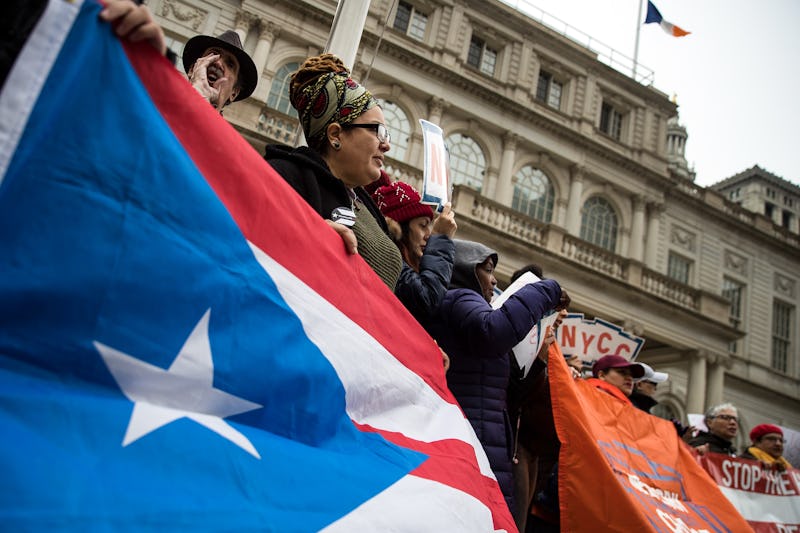 Drew Angerer/Getty Images News/Getty Images
On Friday in San Juan, an impromptu memorial of shoes sprung up at the Puerto Rican capitol building to honor victims from Hurricane Maria, whose death toll the government has yet to finalize. NPR's Adrian Florido reported there were more than 400 pairs of shoes outside the capitol building.
The anger and demand for government accountability that led Puerto Ricans to leave shoes in memoriam at their government's feet were thrust to the forefront on May 29. That's when the Harvard T.H. Chan School of Public Health released a study saying more than 4,600 "excess deaths" occurred in Puerto Rico between Sept. 20 and Dec. 31. The study's methodology of surveying 3,299 random households in Puerto Rico led them to an estimate of 4,645 "excess deaths", which is much larger than the official government toll of 64.
One Puerto Rican, Luis Vázquez, told NPR he left his own shoes in memory of his father. "We already threw all of his shoes away," Vázquez told NPR. "So I put my own, and I'm going to leave them there."
Another Puerto Rican, Mercedes Rodríguez, wrote in Spanish on Twitter that she went to the memorial for "love and justice" of those represented by the hundreds of pairs of shoes.
Late on Friday, the Department of Health in Puerto Rico released data that found in the months after Hurricane Maria there were at least 1,400 more deaths when compared to the previous year. According to the Chicago Tribune, the Puerto Rican Department of Health reported a 14 percent increase in deaths from September to December in 2016 versus 2017. The agency's count was 11,459 deaths from September to December 2017, but as the newspaper reported, that number was not directly or indirectly attributed to the hurricane's destruction.
The Puerto Rican government partnered with investigators from George Washington University's Milken Institute of Public Health for estimating the death toll, but those results aren't expected until the summer, according to NPR.
One group is through waiting and took the government to court to get answers. On Friday, NBC News reported the Puerto Rico Institute of Statistics filed a suit against Secretary of Health Rafael Rodríguez Mercado and the Director of the Demographic Registry Wanda del C. Llovet Díaz. According to the news outlet, the agency, which works to collect accurate and independent data, wants the government to comply with an April request that urges publishing preliminary and daily death updates about the storm in Puerto Rico in a transparent manner.
"Despite this, both the Secretary of Health and the Director of the Demographic Registry have ignored the information request order," the lawsuit reads, according to NBC News. "The omission of both officials has caused that, to this date, the Department of Health is in breach of its obligation to deliver data and statistical information that the Institute has required from them."
The lawsuit by PRIS joins that from Puerto Rico's Center for Investigative Journalism (PR CIJ), which filed a lawsuit in February "after multiple attempts to get the agency to offer information about the deaths that occurred on the island," according to Remezcla. PR CIJ's lawsuit was filed against the director of the Puerto Rico Demographic Registry, and the last court date in late May had yet to provide substantial answers.
Puerto Rico Gov. Ricardo Rosselló seemed to suggest a lack of transparency in his own government's handling of the data in an interview with CNN. Rosselló said "there will be hell to pay" if government officials withheld data, but that the assesment from George Washington Univeristy researchers is forthcoming later this summer.