You Need To See These Gorgeous Photos From 'The Bachelor' Couple Arie & Lauren's Wedding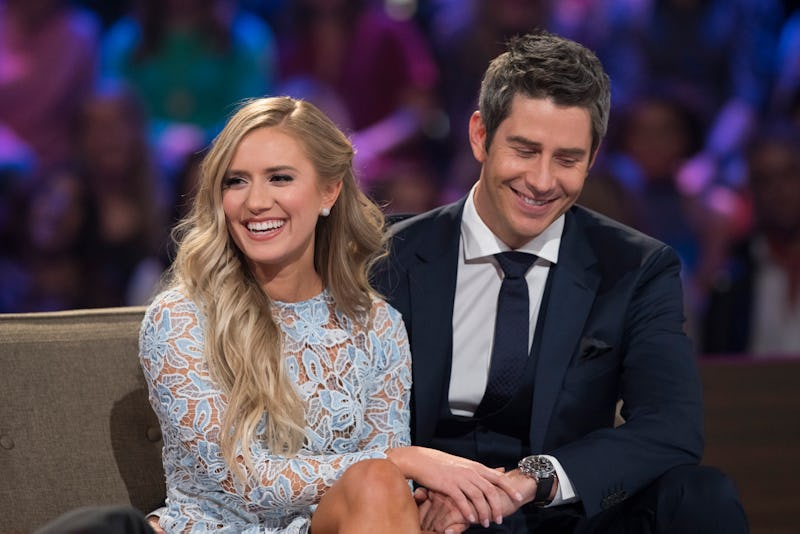 Paul Hebert/ABC
There's another set of newlyweds in Bachelor Nation. Arie Luyendyk and Lauren Burnham got married on Saturday, Jan. 11 on the Maui island of Hawaii in the presence of friends, family, and lots of Bachelor alums. The photos of Arie and and Lauren's wedding show what a gorgeous day it truly was for the couple.
While Us Weekly has the exclusive first photo from the wedding, Arie and Lauren's friends shared plenty of behind-the-scenes photos from the reception. Bachelor Nation guests included Jenna, Maquel, Jacqueline, Marikh, Seinne, Sean Lowe and his wife Catherine Giudici, Jenny Delaney, John Wolfner, Chris Harrison (who officiated the ceremony), and everyone's favorite producer, Elan Gale. And from the looks of their Instagram accounts they all had a blast partying the night away with newly married couple.
When they weren't flossing or taking snaps of the stunning venue, Arie and Lauren's friends were busy sharing their heartfelt congratulations. Before the ceremony, Seinne wrote on Instagram, "Individually, we are one drop. Together, we are an ocean Beyond thrilled to celebrate the union of @laureneburnham and @ariejr in a few hours. Wishing you a lifetime of love, happiness, and beautiful Dutch babies!" If the reception photos are any indication, then Lauren and Arie's life as a married couple is already off to a happy start.
Chris Harrison & Arie Ready For His Marriage To Set Sail
And it looks like the weather was ideal for a boat ride.
The Officiant & The Happy Couple
"It's been an incredible week full of love and laughs," Harrison wrote on Instagram. "Today I'm honored to stand before your friends and family and officiate your wedding. Love you both @ariejr@laureneburnham I now pronounce you....."
Sienne Fleming, Doug Fillmore & The Luyendyks At The Reception
And looking fabulous!
Sean Lowe & Catherine Giudici Ready For Dinner
"CHEERS TO LOVE," Giudici wrote on Instagram. "Congratulations to Lauren and Arie (and Baby Girl Luyendyk) on making it official tonight! So honored to have witnessed it and to have celebrated you ... (Also, have you seen this stunning of a bride before?!?"
Arie, Sean Lowe, & John Wolfner Posing At The Reception
"It all started in 2012," Wolfner wrote.
Arie & Lauren At Their Reception Dinner
Arie and Lauren looking stunning at their reception dinner.
The First Dance
Wolfner got a clip of it on his Instagram stories, and it sounds like they danced to Calum Scott's "You Are The Reason."
Marikh Mathias, Jacqueline Trumbull, & Jenna Cooper Strike A Pose
"Congrats @laureneburnham @ariejr!!" Jenna wrote. "Love you guys!! #LarieGetsMauid"
The Enchanting Venue
Reception venue or enchanted forest? It's hard to tell.
The Whimsical Table Settings
Candy included!
Elan Gale Dancing The Night Away
"This is my true self," Gale wrote when he re-shared Fleming's video on Instagram.
Attendees are probably still nursing their hangovers and combing through their camera rolls for the perfect Instagram post, so more pictures of the magical night are sure to come. In the mean time, these glorious shots will have to do.