These Photos Of Trump Jr. & Kimberly Guilfoyle Show They Actually Have A Bunch In Common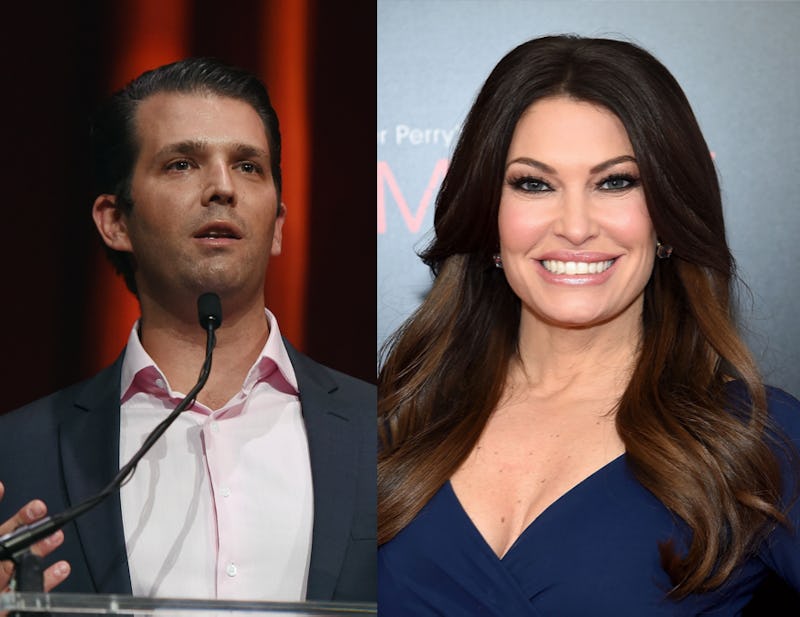 Jamie McCarthy; Ethan Miller/Getty Images Entertainment; Getty Images News/Getty Images
You know what they say: the couple that hobbies together, stays together. And it makes sense. If you have the same weekend hobbies, you're more likely to feel excited and validated by one another. One of the latest tweets by the president's eldest son shows photos of Donald Trump Jr. and Kimberly Guilfoyle in Montana enjoying the great outdoors in their first few days as an official couple in the public eye.
In one picture, Trump Jr. and Guilfoyle grin as he holds a fish (presumably one they had just reeled in) out to the camera. The couple traveled to Montana, a mecca for wilderness exploration, for the state's Republican Party convention on Friday, according to Vanity Fair. President Trump's 40-year-old son and the 49-year-old Fox News host kissed after he spoke to the convention crowd in Billings. He then announced he would be taking Guilfoyle fishing and shooting.
"Just as everyone else thanks their significant others, I got to thank Kimberly for coming out here. We're going to take her fishing tomorrow, then shooting," Trump Jr. said to the Montana audience, as he joked about Guilfoyle being able to handle his outdoor skills, according to Vanity Fair. "This is a miniature test to see if she really likes it, or if she's going to pretend to like it, but either way we're going to have a good time — or at least I will."
And Guilfoyle seemed to embrace the outdoor life. On Sunday afternoon, Guilfoyle also posted several pictures on social media of the two decked out in fishing gear, kneeling in ankle-deep water. In the caption of her Instagram post, Guilfoyle wrote, "Amazing weekend in Montana with @donaldjtrumpjr here are some shots from our trip to the Stillwater River which we floated for the day on Saturday."
The post included selfies of the couple in a grassy field, Guilfoyle sitting in the boat's fishing chair, and one of the TV news host at the river's edge casting a line into the river. Guilfoyle wore a camo hat with the word "TRUMP" emblazoned across in bright orange letters.
Guilfoyle's relationship with Trump Jr. seems to sit fine with Vanessa Trump as well. Recently, Trump Jr.'s ex retweeted him after he linked to an article claiming that calls for Fox News to fire Guilfoyle were "absurd." In her retweet, Vanessa Trump wrote, "The lengths people will go to attack a woman simply because she's dating Don. We've been separated for over 9 months and respect each other's decisions & privacy. We'll focus on raising our great kids. Would be nice if the press did the same rather than obsess over our pvt lives!"
Trump Jr. wed Vanessa Trump in 2005 but filed for divorce in March 2018. "After 12 years of marriage, we have decided to go our separate ways," the couple said in a joint statement, according to The Washington Post. "We will always have tremendous respect for each other and our families. We have five beautiful children together and they remain our top priority. We ask for your privacy during this time."
Now, three months after that the joint statement, Trump Jr. really has gone his separate way, with Guilfoyle at his side. But not all their highlights this week was outdoors. Vanity Fair reported that before their trip out to the "Big Sky Country," the couple was seen embracing backstage at a Poison concert in Long Island, New York, on Thursday. TMZ snapped a picture of the two in the front row during the concert. It may only be in the early stages, but it's clear from the reported kiss and cutesy social media pictures that the two are getting along swimmingly so far.