These Photos From The "Families Belong Together" Protests Will Fire You Up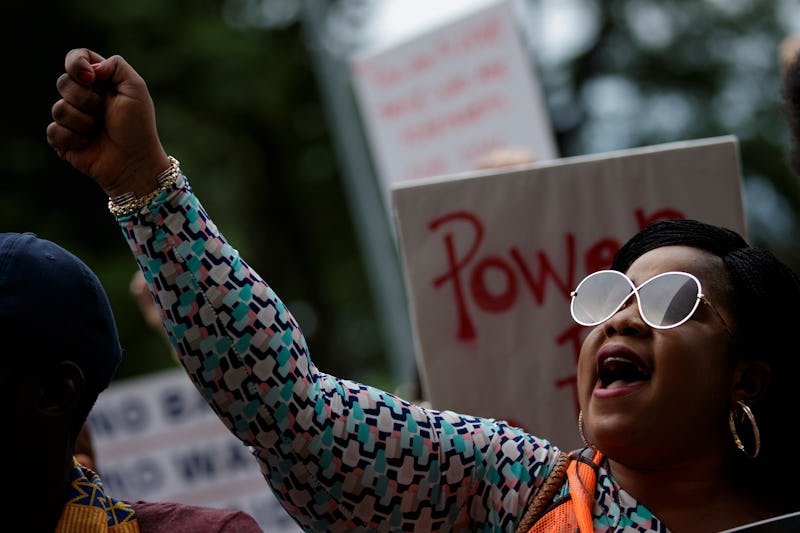 Drew Angerer/Getty Images News/Getty Images
Outraged by stories of migrant children being ripped from their parents at the U.S. border, hundreds of thousands of people marched in cities across the country Saturday in protest of the Trump administration's "zero-tolerance" immigration policies. More than 600 "Families Belong Together" protests and rallies were expected to be held as part of a nationwide day of action to demand separated migrant families be reunited. And photos from "Families Belong Together" protests show just how riled up voters are about Trump's treatment of immigrants.
Although President Donald Trump signed an executive order earlier this month that promised to end the separation of immigrant families, many critics say it isn't enough. "[The] family separation crisis is not over," MoveOn.org spokesman Karthik Ganapathy told USA Today. "We have a situation where the Trump administration seems to be aiming to detain families."
As part of The Families Belong Together Coalition, MoveOn.org — in collaboration with the American Civil Liberties Union (ACLU), the Leadership Conference, the National Domestic Workers Alliance, and dozens of other national and local groups — are demanding the Trump administration reunite every separated migrant family and put an end to the practice of family detention and its "zero tolerance" immigration policy.
Thousands of protesters, many dressed in white as a sign of solidarity, crowded into Lafayette Square on Saturday as Washington, D.C.'s "Families Belong Together" event got underway just across from the White House. Holding signs decreeing the separation of migrant families, protestors of all ages chanted between speakers.
But "Families Belong Together" protests weren't just happening in major cities; protesters also gathered for marches and rallies in small towns and rural communities across the United States. Though rallies in heavily-populated metropolises may have looked quite different from those that occurred in small towns, the message was the same: Families belong together.
In Houston, Texas, protestors chanted "No baby jail" outside Houston City Hall. Their chant is a reference to multiple clams that migrant children were being housed in cages or cage-like enclosures after being separated from their parents.
"Families Belong Together" protest events were even held in a number of international cities by expats living overseas. In Munich, protesters gathered outside the U.S. Consulate to demand the Trump administration increase its efforts to reunite separated families.
Law enforcement agents and immigration officials reportedly separated more than 2,300 migrant children from their parents as part of the Trump administration's "zero tolerance" immigration policy, which calls for every adult apprehended entering the country illegally to face criminal prosecution. Mounting public outrage, however, led President Trump to sign an executive order earlier this month that sought to bring at least a temporary end to his administration's family separation policy.
But Trump's executive order didn't address how exactly his administration planned to reunite already torn apart families. According to NBC News, more than 2,000 migrant children are still separated from their parents.
In a fact sheet released last week, the Department of Homeland Security (DHS) and the Department of Health and Human Services (HHS) claimed they had established a process to "ensure that family members know the location of their children and have regular communication after separation."
The fact sheet went on to state that this process aimed to "ensure that those adults who are subject to removal are reunited with their children for the purposes of removal." According to Vox, DHS and HHS mean to reunite only those families who give up asylum claims and agree to deportation.
Despite high temperatures in many cities, immigration activists and concerned voters rallied together in support of separated migrant families at "Families Belong Together" protests in every state on Saturday, demanding the Trump administration do more to protect and reunite migrant children.