These Photos Of George H.W. & Barbara Bush Through The Years Are So Touching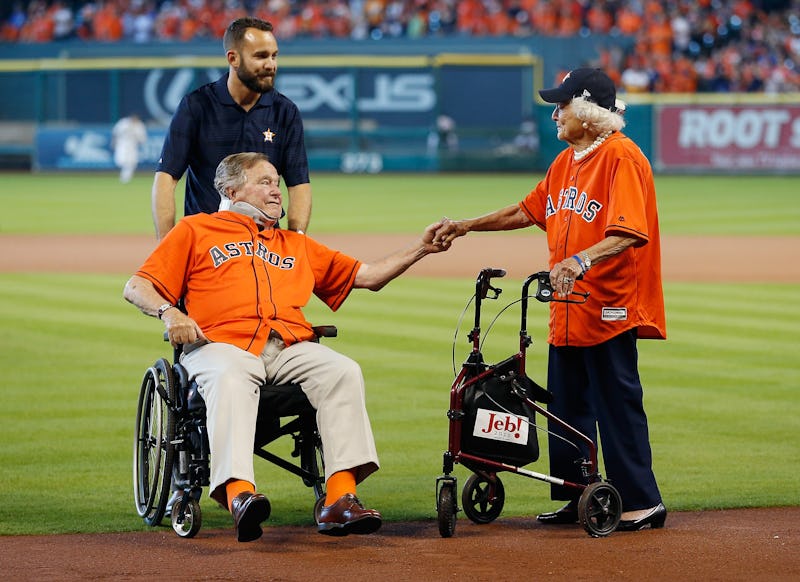 Bob Levey/Getty Images Sport/Getty Images
Former President George H.W. Bush died Friday at the age of 94, some seven months after his wife's death at age 92. At 73 years, the former first couple were known for having what is reported to be the longest marriage in the history of the presidency. And photos of George and Barbara Bush show just what a loving relationship their marriage was.
George and Barbara met as teenagers at a school dance in 1941 and were married a few years later on Jan. 6, 1945, according to MSN. In a letter George wrote to Barbara — then his fiancée — while serving as a Navy pilot during World War II in 1943, he described their first encounter as "a storybook meeting."
"I love you, precious, with all my heart and to know that you love me means my life," he wrote in the letter. "How often I have thought about the immeasurable joy that will be ours someday."
George would reportedly continue to write heartwarming letters to Barbara throughout their roughly 76 years together, professing his love for her and praising her for her love and support. "I've climbed perhaps the highest mountain in the world, but even that cannot hold a candle to being Barbara's husband," George wrote on Jan. 6, 1984, in a letter to his wife, which was read by the couple's son, Jeb, at Barbara's funeral in April.
Need more proof of the couple's bond? Peep these photos of George and Barbara together over the years: