These Photos Of People Celebrating Ireland's Historic Abortion Vote Will Make You Cry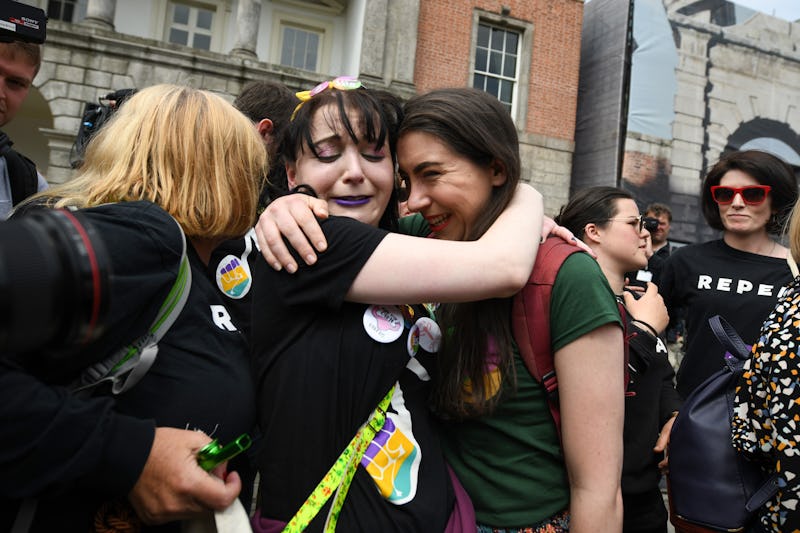 Jeff J Mitchell/Getty Images News/Getty Images
The ayes have it. Exit polls show Ireland voted to repeal a constitutional ban on abortion Saturday in what is being heralded as a landslide win for reproductive rights. Photos of people celebrating Ireland's abortion vote show a majority of the country is more than ready for repeal.
"The people have spoken," Leo Varadkar, Ireland's prime minister, said Saturday as exit polls suggested a significant majority of voters had voted in favor of repealing the country's strict abortion ban. "They have said we need a modern constitution for a modern country... What we've seen is the culmination of a quiet revolution that's been taking place in Ireland over the past 20 years."
According to the Guardian, a final result is not expected until sometime Saturday evening as three constituencies have yet to report in: Cork East, Sligo-Leitrim, and Donegal. Exit polls, however, have pointed to a landslide victory for reproductive rights supporters with 68 to 69.4 percent voting in favor of a repeal. According to the BBC, those exit polls spurred organizers behind The Save The 8th campaign — the main group campaigning in favor of the abortion ban — to concede the vote before the final count had been completed.
"Yes" voters and their supporters gathered Saturday at Dublin Castle, which serves as a major government building in Dublin, Ireland, to celebrate what exit polls suggest will be a decisive victory, CNN has reported.
Prior to Saturday's referendum, the Eighth Amendment in Ireland's constitution banned abortion except in cases where there was a "real and substantial risk" to the life of the mother. The ban was added to the constitution in 1983 following a referendum vote, according to CNN.
According to The Guardian, "Yes" voters and their supporters at Dublin Castle began to chant "Savita" when it was announced that a majority of voters had cast ballots in support of a repeal. Savita Halappanavar died of sepsis in 2012 after being denied an abortion while having a protracted miscarriage. Her image was widely used by "Yes" campaign supporters.
In an interview with the Guardian, Halappanavar's father thanked Irish voters for repealing the law that contributed to his daughter's death. "We've got justice for Savita, and what happened to her will not happen to any other family now," Andanappa Yalagi told the Guardian. "I have no words to express my gratitude to the people of Ireland at this historic moment."
Saturday's historic referendum will not, however, give women in Ireland immediate access to abortion. Government officials have said they hoped to have a new law enacted by the end of the year with Ireland's health minister announcing plans to ask for cabinet approval regarding the creation of formal legislation sometime early next week.
According to the Guardian, that legislation will reportedly allow for abortions at up to 12 weeks but will also include a mandatory three-day wait before the abortion is obtained. Women will only be able to obtain an abortion between 12 and 24 weeks of gestation in cases of fatal fetal abnormality or if there is a risk to the health or life of the mother. Abortions will only be allowed after 24 weeks incases of fatal fetal abnormality. Forthcoming legislation will also reportedly allow for doctors and other medical personnel to conscientiously object to providing abortions as long as they transfer the patient in question to another care provider.
As a result of Saturday's referendum, the Eighth Amendment in Ireland's constitution will be replaced with a clause that states, "Provision may be made by law for the regulation of termination of pregnancy."