John Stamos & Caitlin McHugh Spent Their Honeymoon At Disney World & The Photos Are Totally Adorable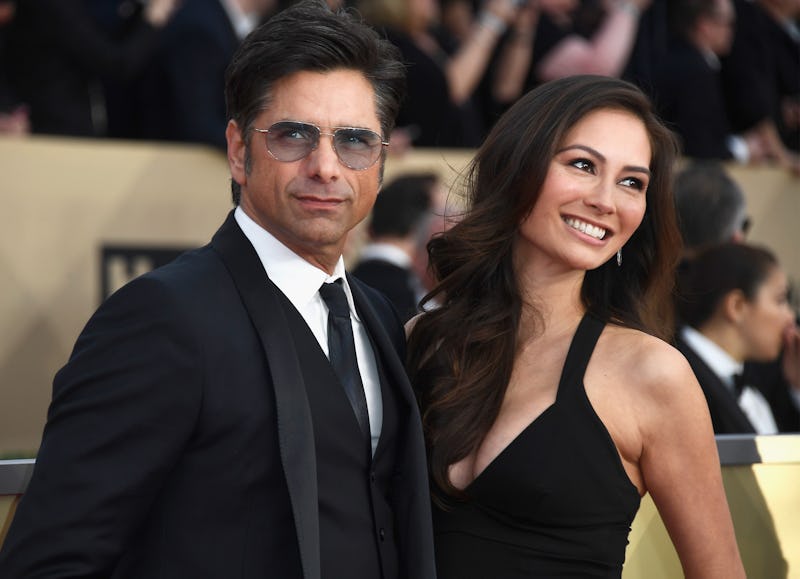 Frazer Harrison/Getty Images Entertainment/Getty Images
Sorry, folks: John Stamos is off the market again. The actor is newly married to the love of his life, and photos of John Stamos and Caitlin McHugh's Disney World honeymoon will make you wish you were there, too. Seriously. Stamos has been sharing regular updates on his incredible Instagram page, and the two appear happy, in love, and really loving their time in Disney World. In addition, McHugh is pregnant with the couple's first child and that'll definitely to limit the rides they can take together. Maybe they just stick to Pirates of the Caribbean, or walking around and enjoying massive turkey legs? Whatever the couple is up to, John Stamos is on his honeymoon in Disney World, and the pictures of it are incredible.
Fans definitely should have known it's what they were planning, as the actor has never hid his love of The Happiest Place On Earth. It seems the 54-year-old actor and musician (and Greek yogurt spokesman) is never not talking about Disney World on his Instagram page. Basically, Stamos' entire social media presence boils down to glorious '80s and '90s flashbacks, interspersed with anecdotes about Disney World, one of his favorite places.
Behold, Mr. and Mrs. Stamos in all their glory:
First of all: Amazing. Second, let's take a moment to admire Stamos tongue-in-cheek caption, which reads:
"#Oneweek (and they said it wouldn't last) #happiestmanonearth#happiestplaceonearth@waltdisneyworld."
That sound you heard just now is everyone, everywhere, Aww-ing simultaneously. It's the perfect place for their honeymoon, really. As luck would have it, McHugh is a bit of a Disney fan herself. One glance at her Instagram page reveals an even split between work-inspired photos (she's signed to Wilhelmina models, and has begun acting as well) and photos of herself enjoying all things Disney. If fans thought Stamos liked to have fun at the "happiest place on Earth", they'll be thrilled to know he met his match in McHugh.
She attended multiple holiday events at Disneyland in 2017, either by herself in costume or in full-on onesies with pals. In fact, Stamos once lost a bet that resulted in he and his Full House costars Bob Saget and Dave Coulier donning the Disney onesies themselves, according to his Instagram. In a word? Swoon. And how has Disney not lined up to throw endorsements at the happy new couple? Attractive, successful people, with an authentic love of your product? Hello. Free ideas here.
It's not unusual for new couples to head to Disney World for their honeymoon, which is why the store offers so many bride and groom options for ears. Stamos' and McHugh's are particularly cute, but might not be customized! If you're as in love with the couple as they are with Disney World, you might be able to duplicate the look. And then casually run into them at one of the lower-key rides. And then become best friends forever. Hey, stranger things have probably happened!
Stamos and McHugh are an amazing couple to watch. They always seem to have so much fun, and don't pay attention to what the media may say about them. Stamos isn't embarrassed to kiss McHugh's pregnant belly on the red carpet, and the two are just as likely to joke around about him admiring another person (in the above photo, actor Olivia Munn). They seem to genuinely have fun together, and it shows. The only thing left to do is buy a condo in Celebration, FL (a community first planned by Walt Disney himself) and name their baby Mickey Mouse McHugh-Stamos.
Okay, so, they probably won't do both of those things. But whatever the couple's real plans are for their future, fans will be so here for endless honeymoon photos from Disney, and their lifetime of happiness together.