These Photos Of Joshua Tree National Park Show Just Some Of The Shutdown Damage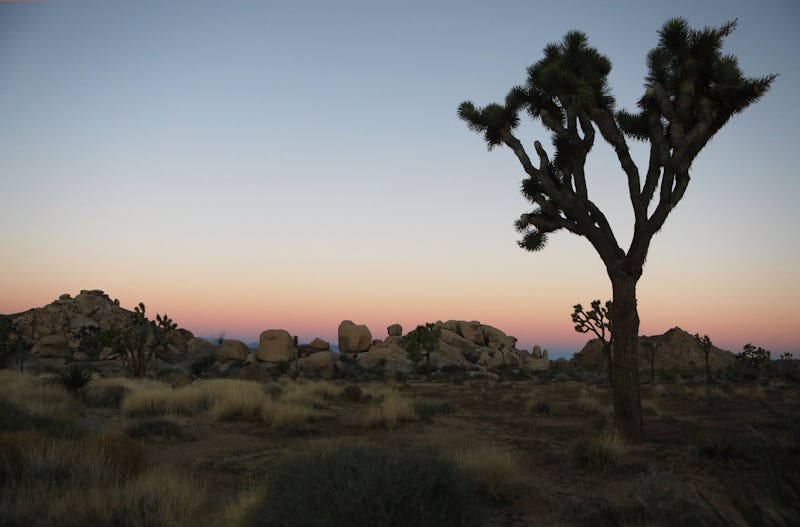 Mario Tama/Getty Images News/Getty Images
National parks are staying open during the government shutdown — and in some cases at quite a cost. Reports from Joshua Tree National Park are some of the most dire, with guests camping illegally and even cutting down the Joshua trees from which the park gets its name. These photos of Joshua Tree National Park during the shutdown make it clear the danger the natural treasure is in without federal funding.
The worst of the news was first reported by National Parks Traveler on Tuesday. "Joshua trees were actually cut down in order to make new roads," Joshua Tree National Park Superintendent David Smith told the news outlet Tuesday. "We have two new roads that were created inside the park. We had destruction of government property with the cutting of chains and locks for people to access campgrounds. We've never seen this level of out-of-bounds camping. Every day use area was occupied every evening."
But other photos are almost equally dramatic, with some showing areas of the park closed to visitors and others showcasing the volunteers that are working to clean campgrounds and facilities to keep it presentable to guests.
The park was going to temporarily close so that it could be sufficiently cleaned up and repaired, but that was averted thanks to other funds. The park then reopened campgrounds that had been closed since Jan. 2 because the toilets were nearly full. These measures came too late, though, and these photos detail just some of the devastation.