Kim Kardashian Just Went To Her High School Reunion & The Photos Are Nostalgic AF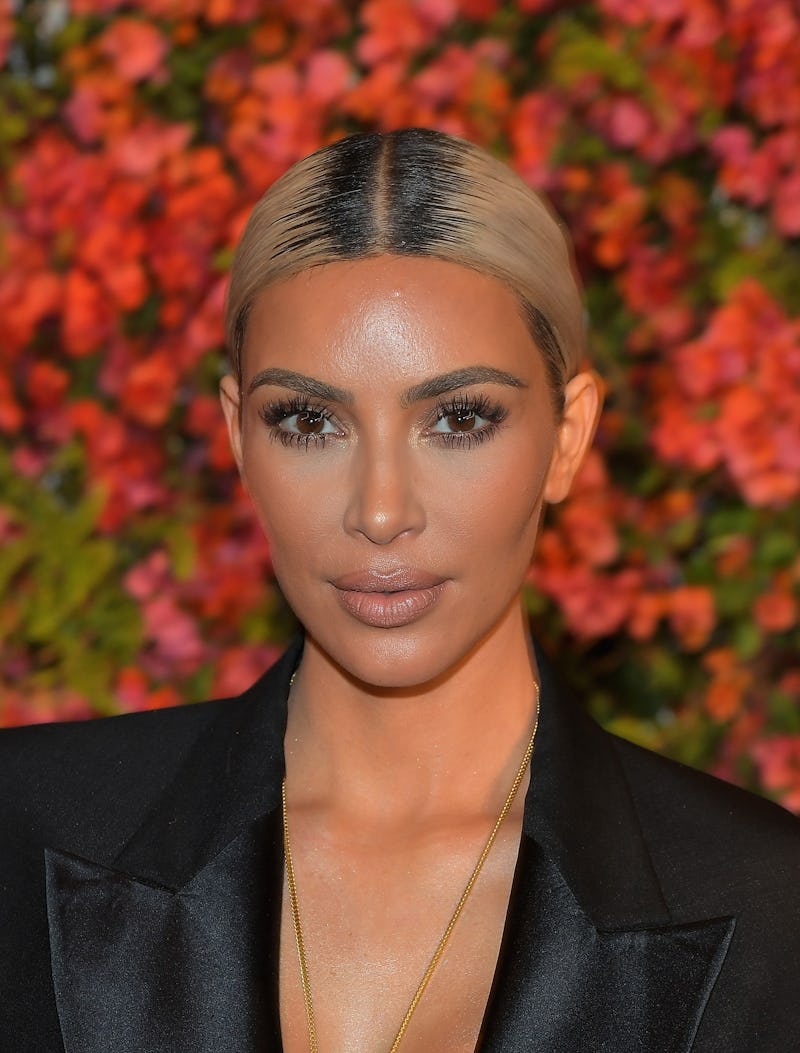 Charley Gallay/Getty Images Entertainment/Getty Images
Kim Kardashian spent a portion of her weekend reliving old memories and taking a stroll down memory lane. On Friday, April 13, Kim Kardashian posted photos of her 20th high school reunion via Instagram and they showed that Kim made sure the event was nothing short of unforgettable.
Kim shared the experience with her fans via Instagram stories on Friday and posted a series of photos and videos of herself and her friends catching up.
"Of course I had to get a party bus for the class of '98," she started off one IG Story video. The 37-year-old spoke in the background of the video as she showed her 110 million followers a tricked out party bus filled with silver balloons that spelled out "Class of '98." She also stocked the bus with tons of old yearbooks from her high school days.
"This will be fun, you guys," she added towards the end.
By the next clip, Kim explained in further detail that she was headed to her high school reunion with her friends that she hasn't seen since graduating from Marymount High School in Los Angeles. Marymount is an all-girls, Catholic school located in Bel Air that Kim attended along with other notable alums like her sisters Khloe and Kourtney, Tatyana Ali, and Bianca Lawson. Kourtney and the latter two actors graduated one year earlier than Kim in 1997.
While Kim's crew was en route to the event, she jokingly pointed out in one IG Story video that her friends were a bit anxious about crossing paths with any people that they may not have been super nice to back in the day.
"My friends are worried that we're gonna run into people that they were mean to and I feel so good about my conscious that I was so nice to everyone," she said.
Also present at the reunion was Kim's BFF, Allison Statter, who made a few cameos in the KUWTK star's Instagram Stories and even managed to convince her that, yes, she should wear her name tag. It's not like she's one of the most talked about celebrities in the world or anything.
It shouldn't really come as a surprise that the reality TV queen herself would go all out even for a high school reunion. After 20 years of being apart from the people that you were the closest to growing up, who wouldn't want to make it as memorable an event as possible? And since this is Kim Kardashian we're talking about, she probably doesn't always have a lot of extra time on her hands — what, with filming a reality show, raising three children, and running a beauty empire — to regularly catch up with old friends. Who's to say when she'll have an opportunity to do this again anytime soon? You really can't blame her for taking advantage of the event to create even more memories with her friends that will last a lifetime.
By the time Kim and her friends rolled up to Marymount for the main event, the group was naturally experiencing an overload of nostalgia as they walked the halls of their old high school.
"You guys, do you remember these halls?" she said in one IG Story video.
And don't think the good times stopped when the reunion finally got off the ground. Kim posted plenty of photos of herself along with her former classmates partying it up and taking things in.
At this point it's safe to say that, if you don't pull up to your reunion in a party bus with your best friends, you might need to get one, pronto. That's one more thing we can learn from Kim Kardashian.