Photos From The London Tower Fire Capture The Devastating Blaze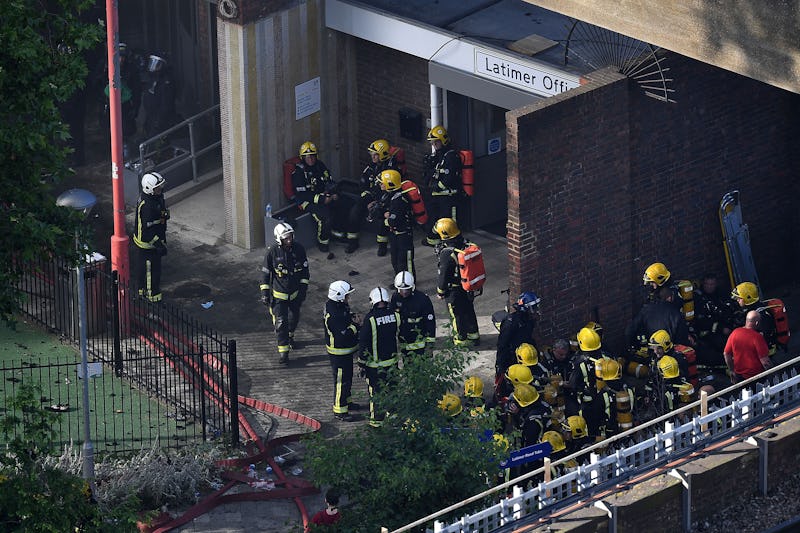 Leon Neal/Getty Images News/Getty Images
The news reports from the London Grenfell Tower fire are devastating, but the tweets and photos from the scene are beyond imagination. The fire broke out just before 1 a.m. local time and quickly spread, reaching from the building's second floor on up to the 24th, the top floor. There were 120 apartments in the building. The London Fire Commissioner, Dany Cotton, told media there had been "a number of fatalities," but an exact number is not known.
The photos and videos posted to Twitter show huge flames coming out of the building. Accounts reported in The Guardian tell of people standing at their windows and asking for help. The firefighters then reportedly shot water at their windows to try and keep the blaze under control until they could be rescued. Other residents fled to the roof to get help, flashing their mobile phone lights. Tragically, there were even reports of people jumping.
After everyone is accounted for, there will surely be an investigation into the building's fire preparedness. There are reports that a blog run by residents, Grenfell Action Group, had brought concerns about fire safety to authorities in the past. Now, residents in buildings across London and the U.K. are likely to ask themselves if their homes are safe. Seeing these images makes that worry all the more real.