Maks Chmerkovskiy & Peta Murgatroyd's Wedding Pics Are Magical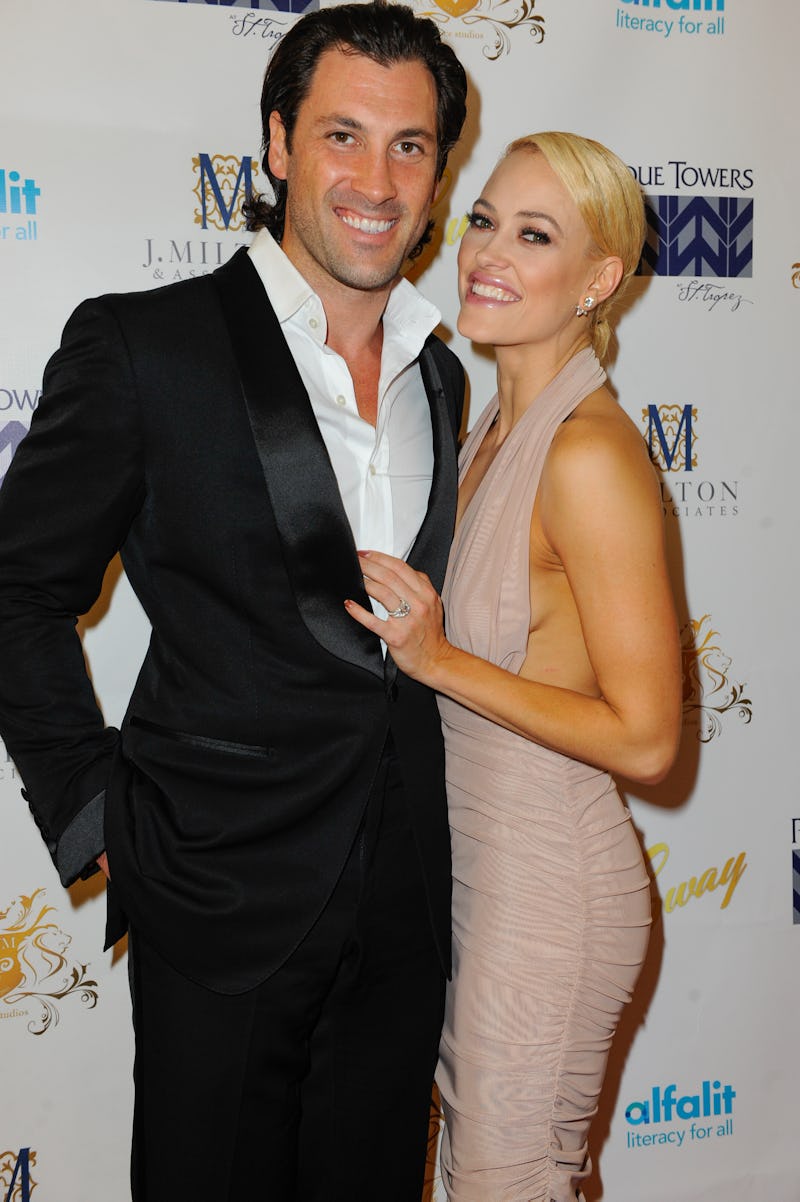 Sergi Alexander/Getty Images Entertainment/Getty Images
The best wedding celebrations gather friends and family for good food, beautiful scenery, and, preferably, lots and lots of dancing. People reported that Dancing with the Stars' Peta Murgatroyd and Maksim Chmerkovskiy got married on Saturday, and they definitely had that last one covered. The longtime couple made it official at Oheka Castle in Long Island, New York, making it a day full of vows and views. From the castle backdrop to the spontaneous rainbow, photos of picturesque ceremony and reception show a magical wedding. Of course, no fancy decor could distract from the main event: Murgatroyd and Chmerkovskiy's first dance as a married couple.
Fans had high expectations for that first dance. After all, the two are both professional dancers on DWTS, and they've both coached stars to victory. They got together officially in 2014, and announced their engagement (through dance, of course) in 2015. About a year later, the couple had their first son Shai. According to People, there were plenty of DWTS cast present for their big day, including Tony Dovolani, Rumer Willis, Sharna Burgess, Jenna Johnson, and Candace Cameron Bure. The couple opted for a simple slow dance, and brought out some of their signature moves later in the night.
Guests documented the whole affair on social media, check out some pics from the magical night below, including the bride and a rainbow.
DWTS alum Nyle DiMarco shared well wishes and a picture of the Peta in her wedding dress. According to People, the star chose an ivory dress instead of stark white so it wouldn't clash with the castle.
As if the couple needed another sign that they're meant to be, a rainbow appeared overhead after the ceremony.
The couple enjoyed their first dance in the venue's elegant ballroom.
Their sweet and simple slow dance was moving.
The night was full of breathtaking flower arrangements, and the cake was no exception.
Candace Cameron had some positive thoughts about the food. According to US Weekly, wedding guests were served a five-course meal in addition to the cake.
DWTS' Jenna Johnson looked like a princess taking a walk through the grounds of Oheka castle.
Sharna Burgess was part of the bridal party and shared this adorable selfie with Murgatroyd's brother.
The night had a lot of dancing (of course!) and Cameron Bure shared a dance with Chmerkovskiy's best man, his brother Val Chmerkovskiy
In the video above, Maks sang Murgatroyd a song during the reception, proving he's can also sing in addition to dancing.
The couple also set up a petal-filled photo booth for guests.
Murgatroyd and Chmerkovskiy's castle wedding brought whole new meaning to big day. It looks like exactly the kind of elegant, dance floor-centric party that fans would expect the DWTS' regulars to throw, and it didn't disappoint. What a lovely way for them to dance into their future together.