Mardi Gras Crash In New Orleans Injured Dozens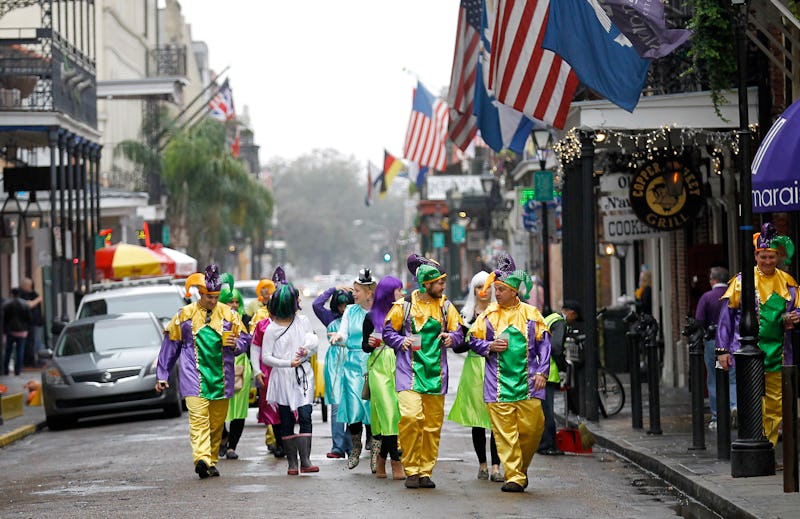 Rusty Costanza/Getty Images News/Getty Images
Each year, New Orleans' Mardi Gras events draw crowds of locals and visitors alike to celebrate with lively parades and colorful costumes. Over the weekend, this year's crowds were met with an unwelcome and scary intruder, as a truck crashed into a Mardi Gras crowd on Saturday night. Photos of the New Orleans Mardi Gras incident showed the celebratory night turning scary.
According to CNN, a pickup truck hit two cars and then a crowd of people near the Krewe of Endymion parade shortly before 7 p.m. local time. Some 21 people were hospitalized, including one female police officer, while seven other people were injured but refused medical transportation. Fortunately, none of the injuries was classified as life-threatening. A suspect, supposedly the truck's driver, was in custody, and he appeared to be highly intoxicated, according to officials.
Saturday's incident was reminiscent of recent attacks in Germany and France, which were allegedly deliberate attempts to drive into a large crowd of people. New Orleans Police Chief Michael Harrison did not lend any credibility to suspicion that Saturday's incident in New Orleans could have been related to terrorism. "We suspect that the subject was highly intoxicated," he reportedly said. Either way, the incident caused a violent disruption to one of New Orleans' biggest nights.
The Crash
According to CNN, witnesses reported seeing the truck lose control and head toward the crowd.
The Scene
The pickup truck reportedly hit at least two other cars before crashing into the crowd.
Close Call
Clearly, the incident came incredibly close to the parade route.
The Parade
The Krewe of Endymion parade is one of the largest processions during New Orleans' annual Mardi Gras celebration. According to Curbed New Orleans, it boasts the biggest float, which is over 300 feet long and carries more than 250 people.
Parading On
Despite the accident, the parade reportedly wound on through the city, keeping the celebration going after tragedy.
The Contrast
These shots make it hard to picture the chaos happening nearby.
The First Responders
New Orleans' first responders swarmed the scene.
The Crowd
Crowds are nothing new for Mardi Gras, but the crash only added to the chaos.
The Recovery
All hands were on deck, as bystanders reportedly pitched in to help the wounded.
Emotions
The crash turned celebration into all kinds of unexpected emotions.
Horrific
Saturday's incident made for an emotional front page.
In spite of the accident on Saturday night, Mardi Gras festivities continued elsewhere in the city on Sunday. The weekend's events are a testament to New Orleans' resiliency and vibrancy.