These Photos Of Obama Kitesurfing Are So Good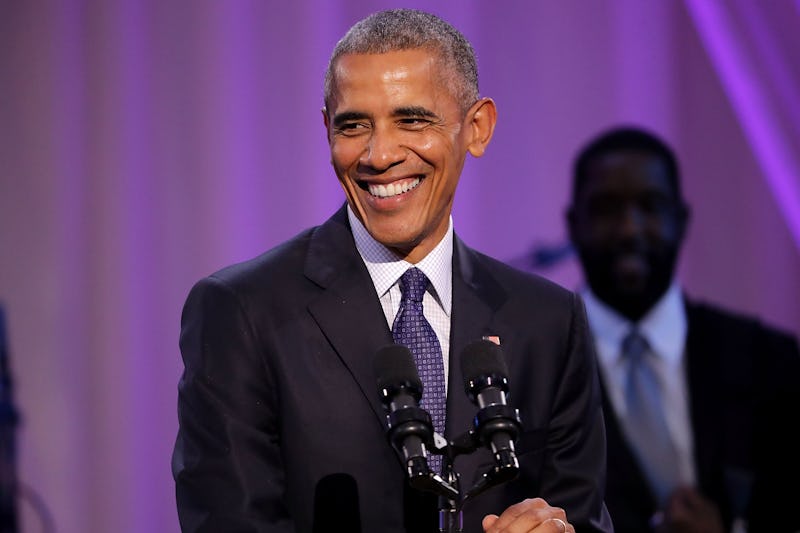 Chip Somodevilla/Getty Images News/Getty Images
After eight years of leading our country where among a very long list of accomplishments he provided health care for many who had gone long without it, passed Wall Street reform, and repealed "Don't Ask, Don't Tell," President Barack Obama exited the White House and immediately went on a much-deserved vacation. Wile blowing off some steam in the Virgin Islands, Obama went kitesurfing with Richard Branson and the pure joy on his face is infectious.
With the weight of the presidency off his back, it looks like Obama was finally able to relax a little. According to The Huffington Post, Obama enjoys surfing, but while president wasn't able to participate during his eight years of service due to necessary Secret Service protections.
The owner of Virgin, Branson invited the Obamas to the Virgin Islands. Branson wrote on his website that after a surfing session at the beginning of his presidency, a security personnel told Obama that it would be his last time he could surf for eight years. However, the former president who grew up in Hawaii is now able to have some additional freedom and get some of his normal life back.
Branson also wrote on his website about a competition between himself and Obama. He said they made a bet to see who could master a new skill first: Obama with kitesurfing and Branson with a foilboard. It was a close race, but in the end, Obama pulled out a victory.
Photos of the kitesurfing event have emerged, and they show an Obama who looks carefree and downright excited to be flying through the air.
Branson And Obama Playing Around
Just two buds on vacation in the Virgin Islands.
Then Things Got Competitive
The look of determination is reminiscent of his resolve to pass the Affordable Care Act.
He's Getting The Hang Of It
It's very impressive to see Obama pick up a new skill so quickly.
And Obama Is Declared The Winner
Obama really got the hang of the sport by the end of the day.
Have You Ever Seen A Bigger Obama Smile?
Look at how happy he is! Just seeing the pure joy almost distracts from the current administration. Obama, can America come vacation with you?
In all seriousness, Obama deserves all of the fun days kitesurfing his heart desires after eight years of running the country. He's earned it and should take full advantage of this time to recharge before he and Michelle get to work on the Obama library and their foundation in Chicago.