These Photos Capture The Close Bond Obama Has With His Daughters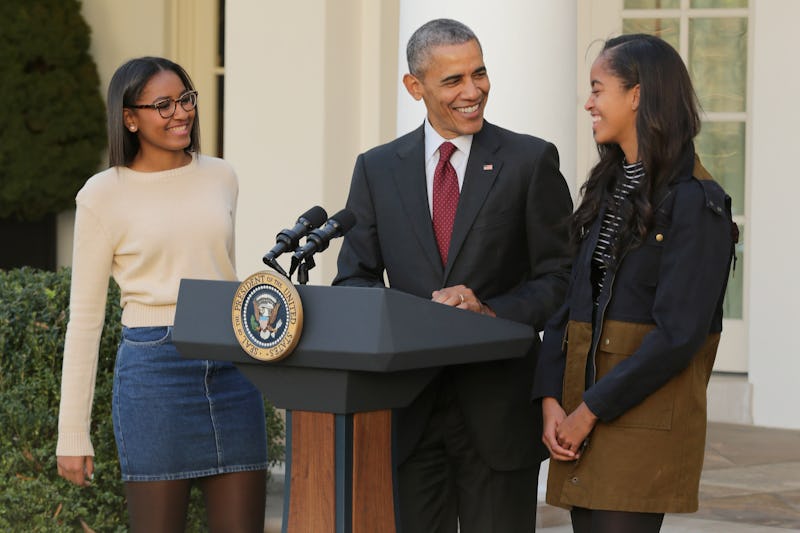 Chip Somodevilla/Getty Images News/Getty Images
With all the time his family has spent in the public eye, it's no secret that former president Barack Obama enjoys a close bond with his two daughters, Malia and Sasha Obama. In fact, photos of Obama with his daughters show just how much the former president values his other job title — dad.
"Both my daughters are wonderful people," Obama told daytime talk show host Ellen DeGeneres back in 2016. The president went on to call Malia "one of my best friends," adding that it would be hard not to have her around all the time when she headed off to college. "They really are solid kids," Obama said. "They don't have an attitude. They're courteous and kind to everybody. They work hard, they don't feel like they're entitled to anything."
Even a cursory glance at photos taken during Obama's time in the White House make it clear that he worked hard to balance his presidential duties with his dad duties. What's more, it seems that Obama continues to value the time he spends with his two children, 20-year-old Malia and 17-year-old Sasha. In fact, while speaking at the World Travel and Tourism Council Global Summit in Spain earlier this year, Obama said the "most memorable trips" he's taken where the ones where his daughters accompanied him.
"Traveling now with my children is now what's most important," the San Francisco Chronicle reported he said. "There is something spectacular about seeing a new place, being exposed to new ideas and experiencing a new culture. Traveling makes you grow. But as a parent, when you are able to watch that sense of discovery in your children's eyes? That is more special than anything else."