The Women's March Even Reached Antarctica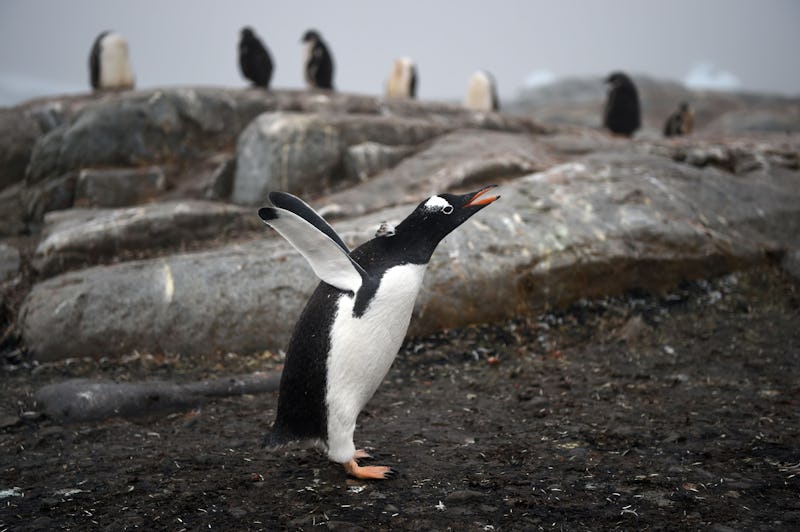 EITAN ABRAMOVICH/AFP/Getty Images
If you're a progressive, this was probably a rather tumultuous week. On the one hand, you had the Jan. 20 inauguration of President Donald J. Trump, and on the other, the Jan. 21 Women's March on Washington. And it wasn't just limited to the nation's capital, either ― there were similar demonstrations all throughout the country, and indeed, the world. And if you're looking for an international example from one of the remotest corners of the world, here you go: check out these photos from the Women's March in Antarctica.
At this point, it's plain to see that the day of marches could have been bigger than the inauguration itself, despite Press Secretary Sean Spicer's angry, no-questions statement in his first-ever visit to the White House press briefing room.
But it's worth remembering that it's not just about the size of the crowd. To the contrary, even small groups of people can send a strong message, joining a movement in solidarity from thousands of miles away. And that's exactly what a group of protesters in Antarctica did on the big day, officially clinching the fact that women's marches took place on all seven continents. According to BuzzFeed, the march took place in Antarctica's Paradise Bay, and was conceived as a way to express a particular fear about what Trump's election means for the environment.
The rate of melting and freezing of Antarctic ice has been closely-watched in recent years, thanks to an ever-increasing number of hottest years on record. In fact, in 2016 the ice melted faster than usual due to the presence of warmer water flowing underneath ice sheets. This is reason enough to step out and show solidarity against the incoming administration and its priorities, no matter the temperature.
Suffice to say it's a major and existential problem for humanity, as well as many other of Earth's species. And even beyond that, considering Trump's underwater approval ratings, is it that surprising that he has his detractors in Antarctica, as well? After all, if you get 30 people in a room together (or atop an ice shelf, as the case may be), you can be virtually assured that a bunch of them aren't going to view the fledgling president favorably.
The marches were huge in the United States ― it's estimated that more than two million people hit the streets to make their voices heard, and that's without even considering the slew of international demonstrations, too. As it stands now, what's happening is one of the most successful mass protests devoted to women and women's issues ever, and that's a dramatic statement in the immediate aftermath of Trump's ascension to the presidency.