These Photos Of The Carr Fire Raging Through Northern California Are Terrifying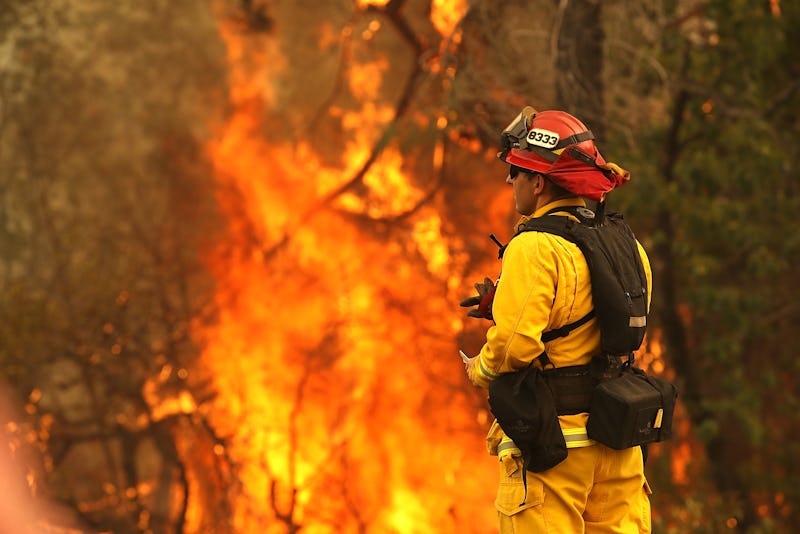 Justin Sullivan/Getty Images News/Getty Images
As of Sunday morning, one particularly threatening fire in California has grown to 89,194 acres, and is only five percent contained. The photos of the Carr Fire in Northern California show the devastation the fire has caused to Shasta County, just 100 miles south of Oregon.
The fire hasn't even been burning that long — it started last Monday. Yet, the Carr Fire has killed at least six people, and at least seven others are missing, the Sacramento Bee reported. Among the dead, according to the paper, are a grandmother, her two great-grandchildren, and a firefighter. The death toll climbed as the fire got bigger. The Los Angeles Times reported that the Carr Fire doubled in size overnight between Friday and Saturday.
And brush conditions have added to the harsh nature of the blaze. Cal Fire officials told USA Today that the extremely high temperatures, high winds, and a dry brush have added to the fire's growth. In fact, on Friday, some of the wind activity was compared to a tornado. "We're seeing, literally almost what can be described as a tornado occurred over this fire yesterday," Cal Fire Chief Ken Pimlott told reporters at a press conference. "The fire was whipped up into a whirlwind of activity."
Regardless of the climate conditions feeding the Carr Fire, it's not a solo phenomenon. On Saturday, CNN reported the Carr Fire is just one of six major fires burning in the state of California. The Ferguson Fire has closed parts of Yosemite National Park, while the Cranston and Ribbon fires have led to evacuations and closures in areas southwest of Palm Springs.