Irma Left Unbelievable Devastation In The Florida Keys & These Photos Are Just The Beginning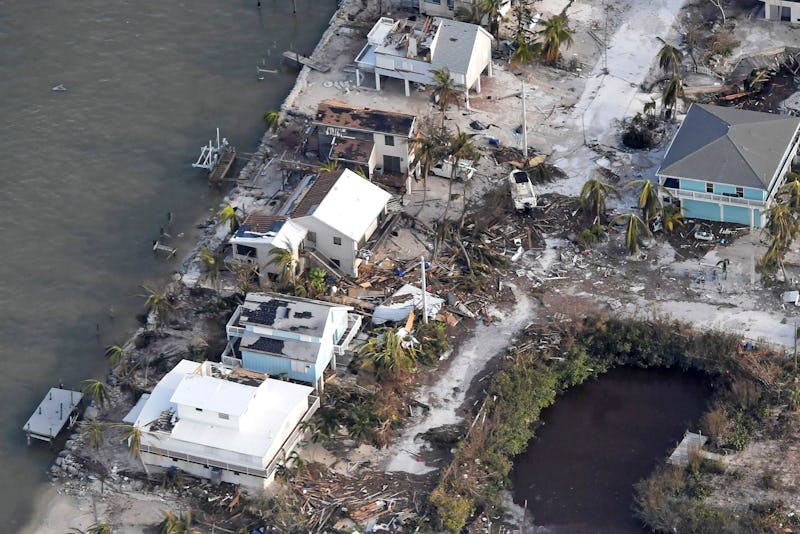 Pool/Getty Images News/Getty Images
Victims of Hurricane Irma are returning to damage across the state of Florida, but there is one area in particular where the hurricane-force winds and storm surge truly showed their might: the Florida Keys. Not only are all structures considered damaged in the area, but 25 percent of all homes were completely destroyed. Now residents are slowly returning to the chain of islands connected to mainland Florida by U.S. Highway 1. What they're seeing in the post-Irma Florida Keys, as captured in these photos, is truly unbelievable devastation.
There are at least 12 deaths confirmed due to the storm in Florida. That pales in comparison with the 43 seen killed in the Caribbean, but it is still a huge number. "My heart goes out to the people in the Keys," Gov. Rick Scott said on Monday before a large scale response of emergency responders had been able to make it to the area. "There's devastation. I just hope everybody survived. It's horrible what we saw."
Federal Emergency Management Agency administrator Brock Long, explained to the BBC that "basically, every house in the Keys was impacted." The aircraft carrier Abraham Lincoln has pulled up alongside the keys, and the military is on the scene to provide support to the relief process. The "humanitarian crisis" in the Keys is very real, and not all of the islands have been photographed yet.