These Photos Of The Moral March Are Amazing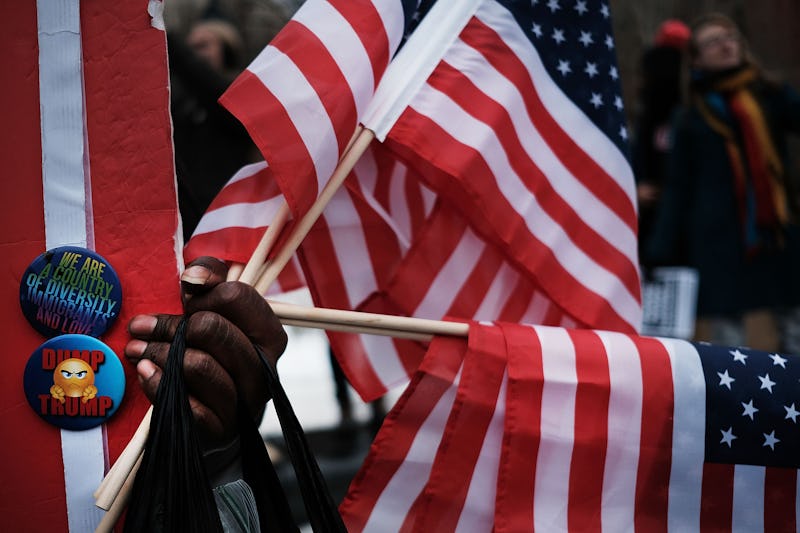 Spencer Platt/Getty Images News/Getty Images
Every year for over a decade, North Carolina's chapter of the NAACP organizes the Moral March to decry what organizers say are the "the immoral and unconstitutional policies" passed by the state's conservative leaning legislature. The eleventh annual march, which was held in Raleigh on Saturday, was said by some to the be one of the biggest yet. And the photos of the thousands gathered for the Moral March will absolutely blow you away.
Protestors this year certainly had a lot on their agenda. Speakers at the event, in addition to controversial bills such as HB 2, which targets LGBT rights, tackled the policies and actions from President Donald Trump, particularly on immigration.
Although Raleigh police don't provide estimates on crowd sizes, organizers predicted that 20,000 people joined in on the march (although others are saying that the actual turnout was upward of 80,000). And according to North Carolina CBS affiliate WNCN, "The surface area that the crowd covered neared the march's previous peak from 2014."
Not everyone was hyped for the Moral March, of course. "The agenda supported by this march is a march towards bigger and more expansive government, higher taxes and fewer jobs in North Carolina," Dallas Woodhouse, the executive director of the North Carolina GOP told WNCN. "It is an agenda soundly defeated in four consecutive statewide elections, and does not represent the agenda of most North Carolinians."
Still, that dissent didn't seem to quell the enthusiasm of the protestors, who turned out ready to make their voices heard.
The march is also known as HK on J, or the historic thousands on Jones Street, this the #HKonJ.
Pictures of the crowd show a diverse gathering of people, something that the North Carolina NCAAP "the new South."
The NCAAP was joined by 200 other advocacy organizations, including the Human Rights Campaign, which was there to protest the repeal of HB 2.
The streets of Raleigh were flooded with protestors, who also called to save the Affordable Care Act.
The diversity of the protest extended to age. From the Raging Grannies...
To the littlest protestors.
And, of course, there were a bunch of A+ signs.
Shoutout to the "y'all means all" sign.
Overall, the march seemed to be an overwhelming success. No doubt it was cathartic to have thousands marching not against one thing, but against the myriad of injustices that the people of North Carolina and the United States face.