Here's What The BTK Killer From 'Mindhunter' Looks Like In Real Life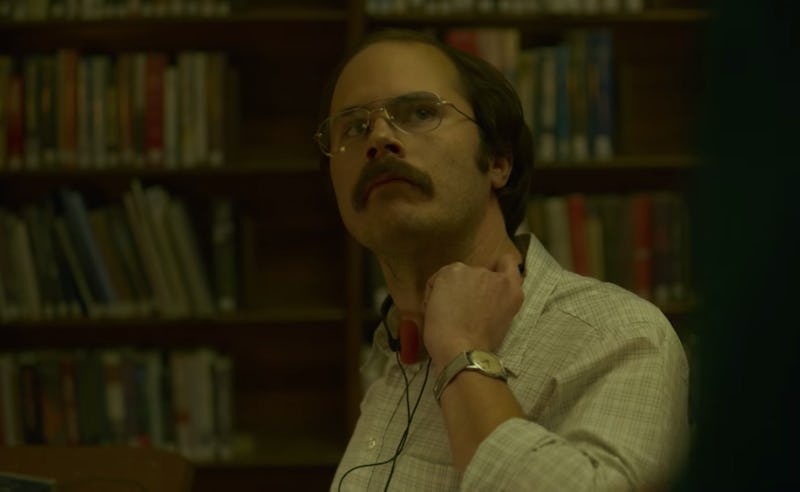 Screenshot via Netflix
Spoilers ahead for Mindhunter Season 2. Just minutes into the second season of David Fincher's Mindhunter, audiences learn what the "BTK" in BTK Killer stands for — Bind, Torture, Kill. What's more, viewers have already seen this man several times in Mindhunter. While he's referred to in the credits simply as ADT Serviceman, it's clear that this creepy, bespectacled man is actually Dennis Rader, or the BTK Killer. It comes even more clear when viewers see photos of the real BTK Killer in Mindhunter Season 2 compared to his onscreen counterpart (played by Sonny Valicenti).
Rader committed his ten murders in and around Wichita, Kansas, per ABC News. His first murders took place in 1974, per the Atlantic — a pattern which continued until 1991, when he killed Dolores Davis. The BTK Killer evaded capture for over 31 years, according to the Washington Post, until he was sentenced to ten consecutive life sentences in Aug. 2005 for each of the murders he committed — all ten of which he pled guilty to. While his sentence would be a minimum 175 years, per the article, Rader was not eligible for the death penalty, since capital punishment was reinstated three years after his murders had concluded.
BTK's first set of murders involved four members of the Otero family in 1974, which audiences learn about in Mindhunter Season 2. He detailed this first killing spree in a June 2004 letter, per the Wichita Eagle, in gruesome details. According to the American Bar Association Journal, Rader was eventually caught after sending a floppy disc to a local TV station, which they were able to trace back to him with DNA evidence. "Him sending that disk is what cracked the case," Wichita Police Lieutenant Ken Landwehr told the ABA. "If he had just quit [killing] and kept his mouth shut, we might never have connected the dots."
In January 2019, Rader's daughter, Kerri Rawson, published her memoir, A Serial Killer's Daughter: My Story of Faith, Love, and Overcoming. In an interview with Slate, she described how she was first in disbelief when her dad was arrested in February 2005, but as soon as she heard the BTK Killer's voice in an old recording, Rawson knew it was her dad.
"The fact that he murdered seven people before you were born and three after — that automatically makes him not a good dad," she told the site. "But my therapist said, even if it was a lie, it was a lie I believed. I had a father raising me. I had two parents raising me. If you ask me to try to reconcile it, my brain will explode. I'll have to go, like, take a nap. I'm a trauma victim. I still deal with PTSD today. If I try to think about living with BTK [instead of] living with my dad, it's not a good place to be."
The BTK Killer is still in jail at the El Dorado Correctional Facility in Kansas, per the Wichita Eagle, where his earliest parole date is listed as 2180.
That Rader is a real person makes the portrayal in Mindhunter that much more terrifying — especially when photos of the BTK Killer and his onscreen counterpart are placed side-by-side. The similarities are eery.