These 9 Photos Of Trump & His Grandkids Speak Volumes About His Role As "Grandpa"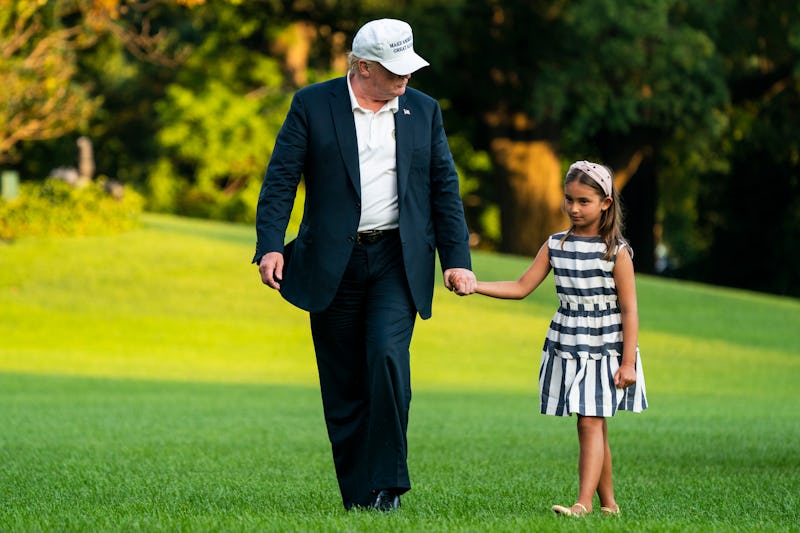 Pool/Getty Images News/Getty Images
President Donald Trump has nine grandchildren, ranging in ages from 1 to 10 years old. Photos of Trump and his grandchildren reveal that he seems to like to invite them to tag along for special occasions, especially since he began his presidential campaign.
The president has three granddaughters and six grandsons, who range quite a bit in age. Ivanka Trump and Jared Kushner are parents to Arabella, 6, Joseph, 4, and Theodore, 1. Vanessa Trump and Donald Trump Jr. have five children together: Kai, 10, Donald Trump III, 9, Tristan, 6, Spencer, 5, and Chloe, 4. Lara and Eric Trump share a son, Luke, who is a year old.
It is apparent that the president enjoys having his grandchildren accompany him to various events. For example, several of them participated in the 2018 Easter Egg Roll on the White House lawn. Two of Trump's grandkids were also in attendance at his turkey pardoning ceremony in November 2017.
Trump's children seem to be proud of the relationship their kids have with their grandfather. Both Ivanka and Donald Jr. have shared photographs on their social media accounts of their children alongside their grandpa, often at the White House or at official events.
The photos below offer a glimpse into just some of these events.