These Photos Of Trump & Putin Meeting Speak Volumes About The Dynamic Between Them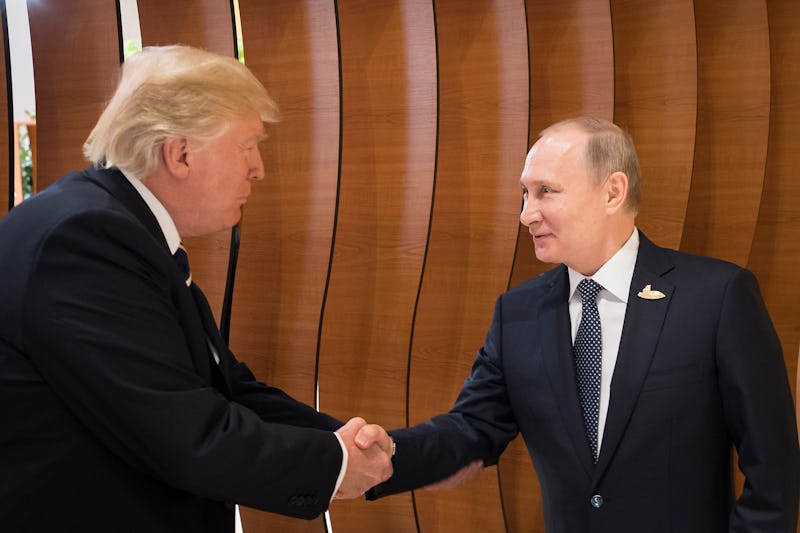 Handout/Getty Images News/Getty Images
Ahead of the Russia-U.S. summit in Helsinki, photos of Trump and Putin meeting with each other offer clues as to how the leaders will interact for their third public meeting. It may sound shocking that they've met so few times in person, given how often they've talked about one another and how much of a role the topic of Russia played in the 2016 election. But Trump and Putin have only officially met in person two times during the former's presidency, leading up to their third meeting this week: in July 2017 at the G20 summit, and in November 2017 at the APEC summit in Vietnam.
Donald Trump and Vladimir Putin first crossed paths when Putin attended the Miss Universe beauty pageant in 2013, according to ABC. As it was held in Moscow, Trump reportedly invited Putin to the shock of many at a time when relations between the United States and Russia were strained.
Though it's not actually clear whether they ever met in person, Trump said of Putin to Fox News, "We just left Moscow. He could not have been nicer. He was so nice and so everything." He even went on to insist that Putin sent Trump a gift, a year later.
Since then, Trump has continuously praised the Russian leader, frequently describing Putin as a better leader than President Obama. At a New York Times press conference in 2015, Trump said, "Putin is a nicer person than I am."
In turn, Putin has had kind words for Trump as well in the past. To reporters in 2015, he said of Trump, "He is a very bright person, talented without any doubt...It is not our business to asses his worthiness, but he is the absolute leader of the presidential race."
Of people who protested Trump's election, Putin said in 2017,
Mr. Trump has been elected by the American people, and at least because of this he should be respected, even if we disagree with his position. This is a sad negative element of the U.S. political system. One can argue, but one should not show disrespect, not even to him personally, but also to the people who voted for him.
Though there are very few photos of them together given how few times they've met one another in person since Trump became president, the few photos that do exist speak volumes about their relationship.