These Photos Of Trump's Super Bowl Party Are Straight-Up Uncomfortable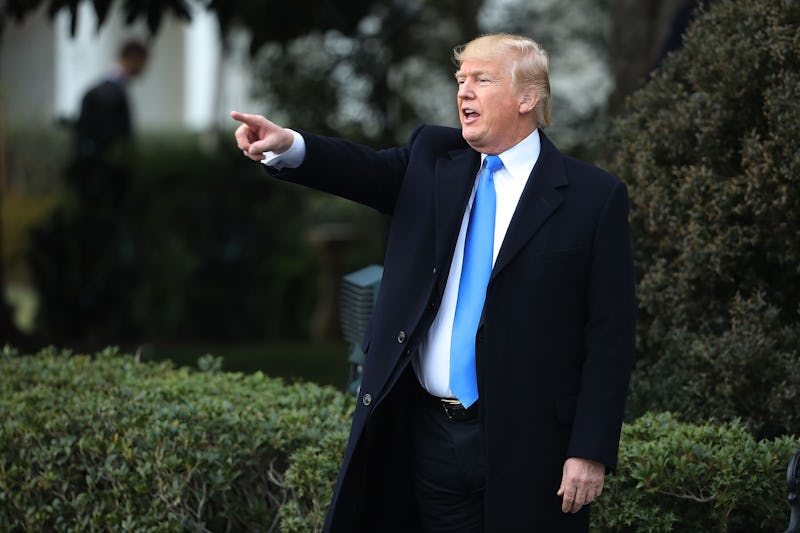 Chip Somodevilla/Getty Images News/Getty Images
For some, a football game isn't complete without pom poms and a kick line. President Donald Trump and First Lady Melania Trump hosted a Super Bowl watch party at Trump International Golf Club in West Palm Beach, Florida, complete with — you guessed it — cheerleaders. To kick off the Super Bowl party, college cheerleaders performed for Trump.
Although Trump broke with 14 years of tradition by refusing to participate in a Super Bowl interview with the network broadcasting the game, he clearly hasn't sworn off the Super Bowl completely. For the second year in a row, the president hosted his own Super Bowl watch party from his golf club in Florida. This year, Trump and Melania were treated to a performance from the Florida Atlantic University marching band, dance team, and cheerleaders. According to the Sun-Sentinel, the college band performed "Hail to the Chief," "Boogie Wonderland," and "Shut Up and Dance" for the first couple.
"Fantastic. So great, thank you so much," the Sun-Sentinel reported Trump told all of the performers. "That was so great, great job, great talent, enjoy the game." The president also shook hands with the cheerleaders as well as with the marching band's director following the group's performance.
As the students prepared to perform their final number, the president ignored a shouted question asking which team he would be cheering for in the Super Bowl. Last year, in a pre-game interview with Fox's Bill O'Reilly, Trump picked the Patriots to win Super Bowl LI, citing his friendships with team owner Bob Kraft, coach Bill Bellichick, and quarterback Tom Brady.
Trump's relationship with Brady, however, appears to have suffered a few bumps in the last year due to the president characterizing NFL players who kneel in protest during the National Anthem as "sons of b*tches."
In an interview with Sports Radio Network WEEI, Brady disagreed with Trump's remarks. "I thought it was just divisive," the Patriots quarterback said. Brady went on to say he wanted to support his teammates and was not one to pass judgement on what is right or wrong. "I believe in bringing people together and respect and love and trust."
While it's unclear if the president remains a Patriots fan or not, Brady's public criticism certainly hasn't caused Trump to change his tune. In an official statement released just before the Super Bowl, Trump reiterated his view that it was important to always stand for the National Anthem. "We owe these heroes the greatest respect for defending our liberty and our American way of life," Trump said in reference to members of the U.S. Armed Forces. "We hold them in our hearts and thank them for our freedom as we proudly stand for the National Anthem."
Trump has previously called for NFL team owners and coaches to fire players who kneel during the anthem in protest of racial inequality and social injustices. He also encouraged his supporters to boycott the NFL teams that don't punish kneeling players. "If NFL fans refuse to go to games until players stop disrespecting our Flag & Country, you will see change take place fast. Fire or suspend!" the president wrote on Twitter in September.
But although Trump was hosting a Super Bowl watch party, he was reportedly not able to catch the game in its entirety. That means he missed the Philadelphia Eagles defeat the Patriots to nab their first Super Bowl victory 41-33. According to the Palm Beach Post, the president left to return to the White House just as the second half began. Trump also missed the tail end of last year's Super Bowl, leaving before the Patriots' epic comeback.