Winter Storm Diego Has Hammered The South & Here Are "Snowmageddon" Pics To Prove It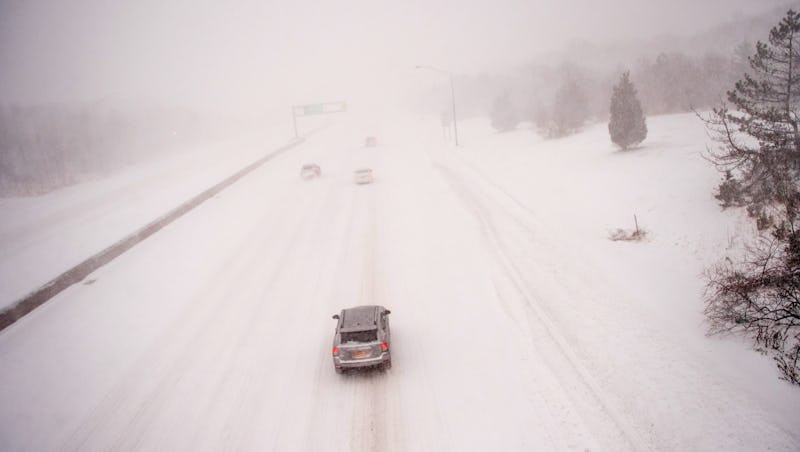 Andrew Theodorakis/Getty Images News/Getty Images
Electric companies predicted about half a million people would be without power after Winter Storm Diego finished ravishing the South, and that might not end up being an exaggeration. The huge winter storm has dropped piles of snow from Alabama and Oklahoma to North Carolina and Virginia, and these photos of Winter Storm Diego show the snow is really piling up.
The Weather Channel reported Sunday that states of emergency have been declared in Virginia, North Carolina, and Oklahoma, and that some 270,000 people are without power. But the storm is far from over.
On Sunday morning, the National Weather Service forecast that a "high impact" winter storm would stretch from northeast Georgia and northwest South Carolina to central and southern Virginia on Sunday — all because of a "strong storm system passing just south of the southeast U.S. coast."
Snow accumulation may reach up to one foot in some areas, and the National Weather Service warned that "travel will be severely affected across much of these areas, and some power outages are likely." These pictures from the storm on Sunday morning show that the snow is falling — and piling up — just as the forecast predicted. The weather conditions could complicate efforts to reconnect power to those without.
The majority of those without power are in North Carolina, nearly 150,000 customers. That state was followed by South Carolina with nearly 80,000 customers, Georgia with nearly 30,000, and Tennessee with nearly 20,000, The Weather Channel reported.
North Carolina Gov. Roy Cooper declared the state of emergency ahead of the storm's arrival. "Snow may be beautiful, but it can also be treacherous and I urge North Carolinians to take this storm seriously and get ready for it now," the governor said on Friday. The declaration includes provisions to make movement easier for utility trucks and to prevent price gouging.
Road travel could prove treacherous in parts of the region. Some roadways were closed when semi-trucks became stuck in the early morning hours. The North Carolina Highway Patrol warned drivers via Twitter to stay home. "Crews are working hard to keep the roadways clear, however, motorists are advised to stay home if they do not have to travel," the agency's Twitter account posted.
Air travelers were also affected at some of the region's busiest airports. North Carolina's Charlotte Douglas International Airport saw more than 1,000 cancellations just on Sunday, CNN reported. The airport is home to American Airline's second-largest hub, and flight cancellations are expected to continue through Monday morning.
For those flying, you can try to rebook with your airline if your flight is canceled. If you're without electricity, it's important to let the electric company know so that they can send a repair crew to your area. Duke Energy has made it easy to report an outage. You can do so over the phone, via text message, or on the company's outages website.
If you're affected by Winter Storm Diego, add to the pictures currently on Twitter with the hashtag #Snowmageddon2018. And, most importantly, be safe.