These Photos Of Congresswomen Wearing White At The SOTU Are Incredible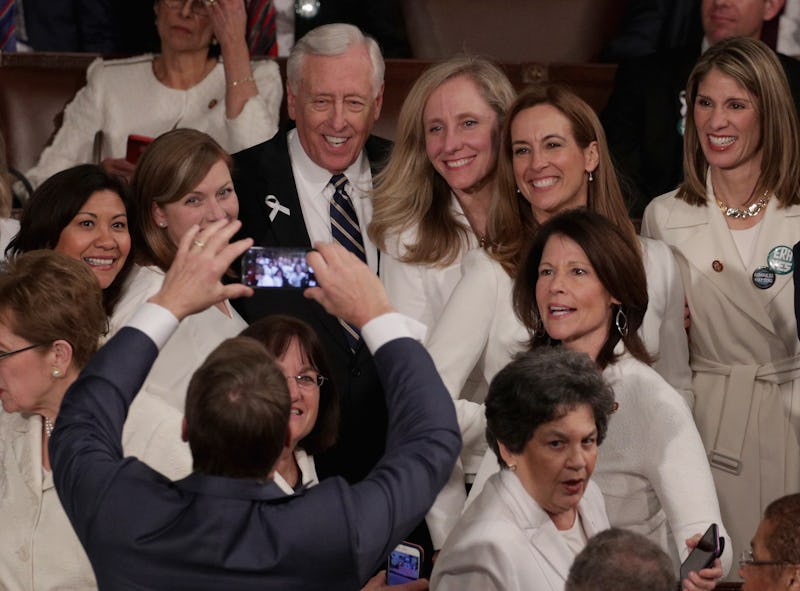 Alex Wong/Getty Images News/Getty Images
Hours before President Donald Trump delivered his 2019 State of the Union address on Tuesday, dozens of Democratic women were already appearing in photos at the Capitol, donning "suffragette white" suits and dresses. Photos of women wearing white at Trump's SOTU illustrated a show of solidarity, according to The Hill, as well as a tribute to the suffragette movement of the 20th century.
According to The Washington Post, the House Democratic Women's Working Group invited all women in Congress to wear white in order to demand women's economic security and to protest the Trump administration's repressive policies. Florida Rep. Lois Frankel, the chair of the working group, told CNN that wearing white was also meant to celebrate the record number of women who were elected to Congress during the 2018 midterm elections.
"Wearing suffragette white is a respectful message of solidarity with women across the country, and a declaration that we will not go back on our hard-earned rights," Frankel told CNN in a statement.
Photos of women lawmakers made it clear that many of them had chosen to champion women's rights at the SOTU by wearing white — just as they did back in 2017, when Trump delivered his first joint address to Congress.