Hailee Steinfeld & Cameron Smoller Are The Cutest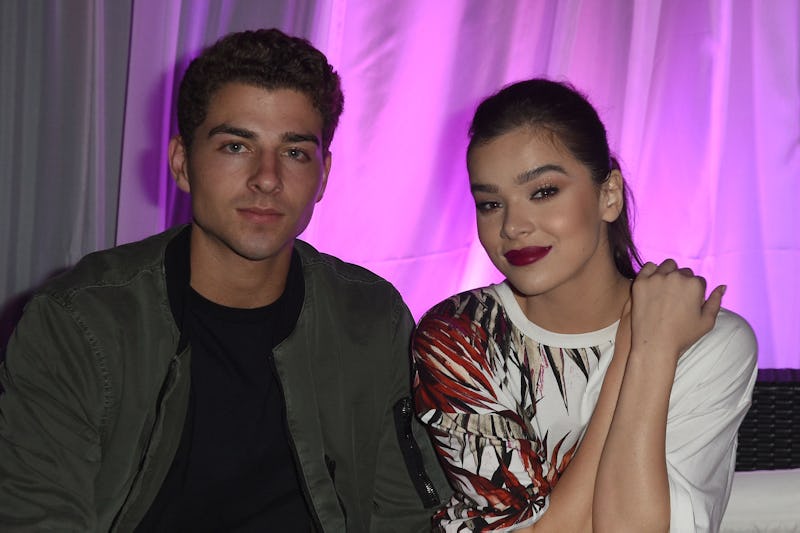 Joshua Blanchard/Getty Images Entertainment/Getty Images
Hailee Steinfeld is thriving. The actor's career was back in the spotlight in the past couple of years, and she scored leading roles in Pitch Perfect 2 and The Edge of Seventeen. As if film stardom wasn't enough, her venture into pop music was also successful. Her debut EP, Haiz, dropped in 2015, and made the pop charts with singles "Love Myself" and "Starving." Somehow, the star made time for personal life outside the career whirlwind, and in early January, Steinfeld revealed her relationship with Cameron Smoller. These two are seriously adorable, and were Insta-official long before stepping onto a red carpet together.
Fans might be wondering if Steinfeld will arrive at Sunday's MTV Movie & TV Awards with her new BF. She is nominated for Best Actor in a Movie for her role as Nadine in Edge of Seventeen. The unconventional teen rom-com was an unexpected charmer, and owes much of that to the star's nuanced performance. However, everyone will have to wait to find out if Steinfeld shows up at the event with her IRL boyfriend.
Despite that recent Biebs romance rumor (which Steinfeld denied) the actor has been happily dating Smoller for a few months. Even if he doesn't make it to the MTV Movie & TV awards red carpet, there are plenty of other snaps of the couple to prove their relationship is going strong. Check out a ton of the pictures the couple have appeared in together so far below:
In an Instagram post on Monday, Smoller shared a pic of the two cuddling up together in a car. It's not the first time that Smoller has Instagrammed a pic with Steinfeld, and some of his other posts fueled their initial dating rumors.
When dating a super successful actor/pop star, touring is part of the picture. Sometimes the relationship has to be long distance, and Smoller likely posted this picture during one of the couple's separations. The caption reads, "need soon to be here sooner", proving that they can't spend enough time together.
Both of these stars love to hit the beach with friends, and that's where many of their photos together appear.
In another adorable candid pic, they both posted an Instagram enjoying the coastal sunset.
Steinfeld also shared another shot from the same romantic walk.
Not long after these beachside dates, Steinfeld and Smoller appeared on the red carpet together for the first time. At a W Magazine event, the two showed up together and let's just say, they did not look bad.
The W Magazine function wasn't the last time these two made an official appearance, and have graced a few red carpets since.
The couple attended Coachella together in April. It's not the first time they've sported complimentary looks; they often match when they appear for photos.
When not on the red carpet, these two love to dress down and keep it casual.
Honestly, of everyone in Hollywood, this couple truly puts their best sweatshirt foot forward.
From sweats to suits, Steinfeld and Smoller are pure relationship goals. No matter what the setting, they always look amazing, and seem super happy, as well. Only time will tell if the actor and her boyfriend will bring more red carpet style or Instagram love for each other on Sunday, but after looking through all these pics, let's hope so.