You Need To (Finally) See Emily Ratajkowski's Giant Engagement Ring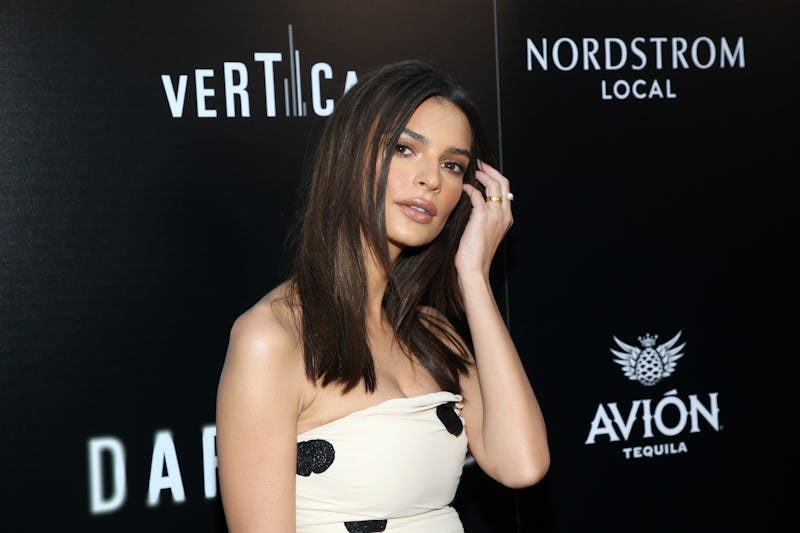 Phillip Faraone/Getty Images Entertainment/Getty Images
There has been a lot of natural curiosity among fans and the press regarding Emily Ratajkowski's recent marriage to Sebastian Bear-McClard. The duo secretly swapped vows in February and the public has been following bits and pieces of their relationship on her Insta. Emily Ratajkowski's engagement ring finally made an appearance on her well-followed feed —and to call it "massive" would the understatement of the millennium.
Seriously, this rock, which appears to be the engagement ring, could have its own zip code. It features two large, "mismatched" stones and is bling AF.
There is a reason this piece o' jewelry is significant — and not just because it's extra and celeb engagement rings are always something to gawk at. When Bear-McClard asked Em Rata to be his wife, he didn't have an actual engagement ring. Stop. Do not assume chivalry and romance are dead because you would be patently wrong.
Instead, he pulled a MacGyver and did one better — he fashioned a ring from a paper clip while they were out to eat at a tavern. Yeah, we just elected him the mayor of Swoon City with that move.
When it came time to figure out wedding rings, the duo made their own bands buy purchasing an ounce of gold. That ring was supposed to be temporary but the actor grew quickly attached to it. How personal and incredibly romantic, right?
Whoa! Ratajkowski's rock(s) are bigger than any of her knuckles! The two stones appear attached to a gold band that's thinner than her wedding band. It's a straight up stunner and a conversation starter. As PopSugar noted, one stone is teardrop shaped, while the other is a princess cut. The stones aren't twins — they are more like sisters. Both elicit "Dayum!" reactions. One can't help but think that the pair might have custom-designed this ring, since that's what they've been doing and because of the unexpected style.
It's certainly a unique engagement ring. Perhaps the two stones represent how Ratajkowski and her husband are always connected. At least that's our read of the design. But it could mean anything — really. This ring camps out at the opposite end of the spectrum from the makeshift paperclip ring. But both are beautiful in their own way and signify the duo's relationship.
Once more with feeling ! Em Rata's ring finger has quite a cluster of rings. It's her take on the layered ring look. Who says that stacked rings have to be placed above and below the knuckle and be thin or small so as not to overwhelm a digit? Where 'em wherever your please and at whatever thickness you like. Em's ring and hand are proof that.
TBT to the big day. Ratajkowski wore a mustard yellow suit and a black hat to the ceremony. Her entire look slayed all day.
Of course the posts featuring the ring were flooded with comments from the ever-opinionated internet. Some were confounded by the double stones and how they are positioned. Others loved it.
Why choose when you can have both, right?! Perhaps Em Rata and her hubby loved both cuts equally and didn't want to have to make a choice. They've already demonstrated a predilection for doing things their way and for improvisation when it come to their wedding jewelry.
It sure is. It's the engagement ring to end all engagement rings.
While it's not a traditional ring, it is unique and unusual. And the person who is wearing it is clearly enamored not only by the ring but by what is represents. That's really all that matters.