Pier 1's Millennial Pink Holiday Decorations Look Like The Inside Of An Instagram Dream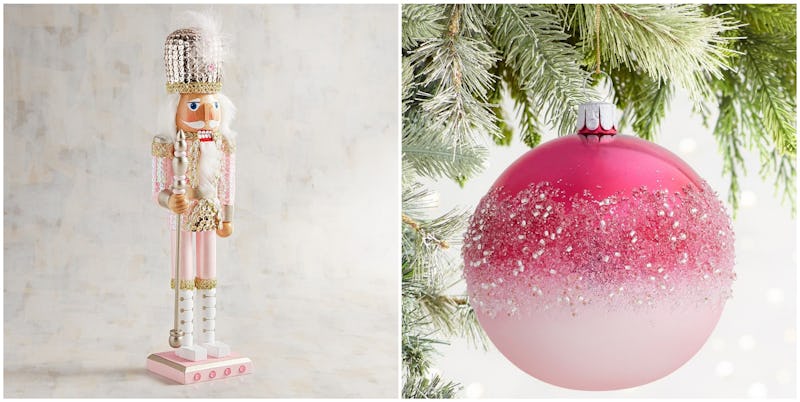 Pier 1
Now that we're all putting our faux cobwebs and fake skeletons away for another year, it's time to look ahead to the next set of holidays on deck — and wouldn't you know it? Pier 1 has all our Christmas decorating needs covered. Again. Pier 1 has tons of millennial pink Christmas decorations up already, and they're just waiting to come home with us all. Because, I mean, be honest: That pink, sparkly nutcracker is the greatest thing you've ever seen, am I right?
Of course I am. It's magnificent.
Pier 1 has more surprises in store, too: Most of these decorations are surprisingly affordable. I mean, true, some of them are pricier than others (peony wreath, I'm looking at you), and a lot of them are midrange; there are lots of options available that are under $10 a pop, though — and, in many cases, even cheaper. Delightful decorations are fun regardless, but I always feel like it's extra special when you manage to make your space look seasonally festive without dropping a bundle on it.
And since "festive but affordable" is often the motto of millennials who like to decorate for the holidays, it would stand to reason that a whole bunch of millennial pink items would make their way onto Pier 1's shelves this year. Obviously you don't have to be a millennial to enjoy them; they do, however, largely seem to hovering in that range of pale pink to bright pink that we tend to classify as "millennial pink."
Here are a few highlights:
1. Pink Sequined Nutcracker
2. Pink Scooter Ornament
3. Sparkly Ombre Flameless Candles
4. Pink Pineapple Ornament
5. Pink Ombre Ornament
6. "Merry Everything" Wall Art
7. Pink Tree Photo Clip Frame
8. Fancy Pig Ornaments
9. Beaded Blush Snowflake Pillow
10. Shatterproof Ornaments
11. "Merry Christmas" Wall Art
12. Beaded Tree Pillow
13. Faux Pink Peony Wreath
Head on over to Pier 1 for more; sort by color if you want to see what other items have gotten the millennial pink treatment this year. Now if you'll excuse me, I have some holiday decor to plan...