Pink's Outfit At The 2017 VMAs Was Just The Beginning Of A Powerful Statement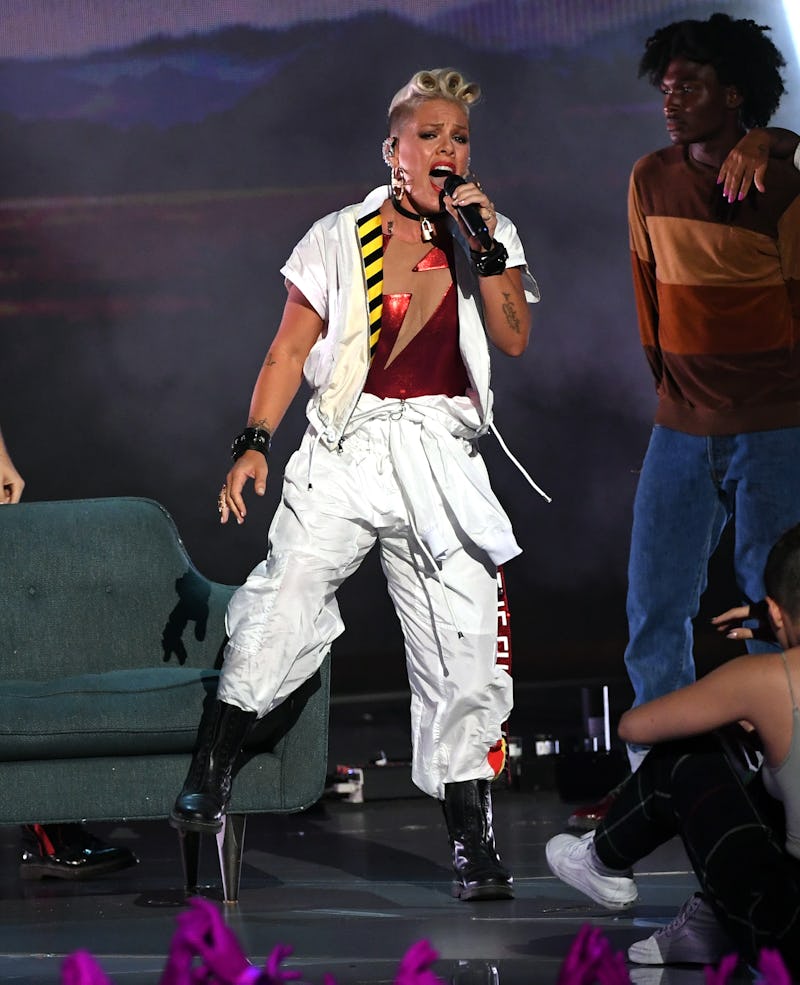 Kevin Winter/Getty Images Entertainment/Getty Images
Pink is known for being the kind of in-your-face, bold pop artist that never apologizes for being exactly who she is. Her prolific career was honored at the 2017 MTV Video Music Awards, where the artist was given the MTV Michael Jackson Video Vanguard Award.
Pink gave a medley performance of her greatest hits during the show, and proved that after all these years, she's still got some serious pipes. She's also still got a strong sense of personal style: Pink's VMAs look was tough-girl combination of a Wonder Woman-reminiscent bodysuit, white track jacket, and wide leg pants. The best detail of the look, though, were the two colored straps that hung from the jacket: One said "WAKE THE F*CK UP," and one said "STAY WOKE!" On the back of her outfit, a piece of tape reads, "FUMP TRUCK."
No official word yet on Pink's intention upon wearing this outfit — but fans can definitely make some inferences here. Despite her political attire, it was Pink's speech post-performance that really made a statement.
When she received her award, Pink gave an emotionally charged speech, most of which was directed at her daughter. The artist told the audience about how her daughter said she was ugly, because she looked like a boy with long hair.
"I made a Powerpoint presentation for her," Pink said. " In that presentation were androgynous rockstars and artists that live their truth and probably get made fun of every day of their lives and carry on. These are artists like Michael Jackson and David Bowie and Freddie Mercury and Prince and Janice Joplin and George Michael, Elton John. So many artists, her eyes glazed over."
She continued, "Then I said, 'I really want to know why you feel this way,' and she said, "Well, I look like a boy.' And I said, 'Well, what do I look like?' And she said, 'You're beautiful.' And I was like, 'Well thanks! But when people make fun of me they say I look like a boy or I'm too masculine or I have too many opinions, my body is too strong ... But do you see me growing my hair? No mama. Do you see me changing my body?'"
"We don't change," Pink told the audience after her performance. "We take the gravel and the shell and we make a pearl. We help other people to change so they can see more kinds of beauty."