Pink's Response To An Ageist Twitter Troll Is Beautiful In So Many Ways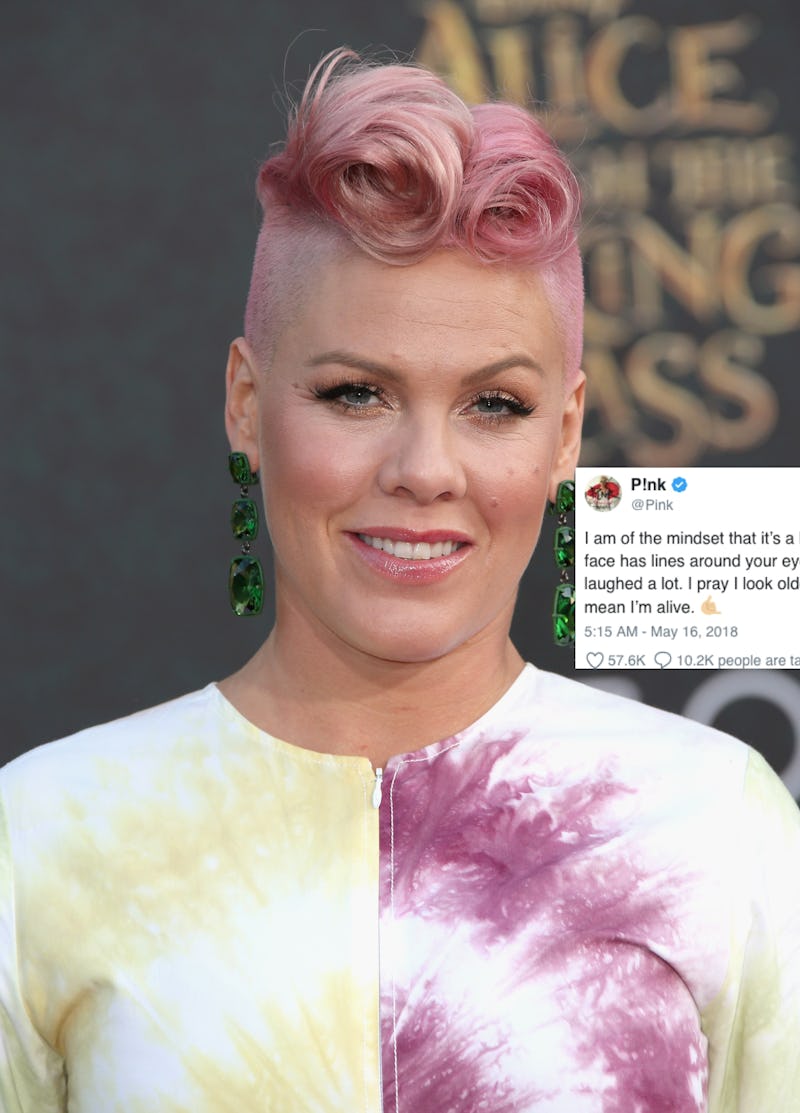 Frederick M. Brown/Getty Images Entertainment/Getty Images
Take note: If you trash Pink, she will come for you. On Twitter Tuesday, Pink slammed a troll for commenting on her "old" appearance. In response to a tweet from 102.7 KIIS-FM about the singer sharing a special moment with a young fan, who sang for Pink during her Beautiful Trauma Tour, this particular Twitter user replied, "Wow Pink looks so old that should be named Purple instead [sic]."
Anyone who follows the musician, whether it be on social media or through her career, knows Pink doesn't put up with disrespectful or inappropriate nonsense. So, yeah, she took matters into her own hands in an amazing way and fired back at the troll. She first wrote,
You must be from la. Well, there are a few people left in the world that choose to age naturally. And I've earned every f*cking minute of my 38 years. How you lookin though? Cause I never heard of ya til you put my name in your mouth. I shall call you little purple troll.
Boom. Pink has spoken. The 38-year-old didn't stop there and added another reply that is gaining attention — even from her fellow celebrities. She tweeted,
I am of the mindset that it's a blessing to grow old. That if your face has lines around your eyes and mouth it means you've laughed a lot. I pray I look older in 10 years, cause that will mean I'm alive.
And that is how you respond to anyone who attempts to tear you down over your appearance.
There's too much focus and pressure, especially on women, about "staying young" and "looking young", but why? As Pink has beautifully expressed, aging is a part of life. Everyone is supposed to get older, so why not embrace it? And there shouldn't be criticism if you look like you've aged. Your body and face are evidence of the life you lived and everything you experienced. Crows feet, wrinkles, and laugh lines? These should be considered beauty marks, not eyesores. There is nothing wrong with aging naturally. There is beauty in all faces and at all ages.
Plus, more people should be happy they're alive, as Pink points out, when there are so many others who have sadly lost their lives way too young or who are facing extremely tough times. Getting old and looking like you've aged should be the least of people's worries.
Other celebrities agree with Pink wholeheartedly and are praising her for taking a stand. Reese Witherspoon tweeted, "Agree @pink! We are supposed to grow old and our faces and our bodies that carry us through this life. Gotta have Gratitude for every minute on this Earth."
Here are a few others:
Pink isn't ashamed of who she is, how she looks, or what she eats. In September 2015, the "F*ckin' Perfect" singer told Food & Wine, "I eat a lot [on tour], because I work out four and a half hours a day: a two-hour show, plus yoga, cardio, and a rig check with the flying apparatuses." She continued, "But here's the issue: I don't change my eating when I get home. So everyone always asks me, 'What are you going to do after?' And I say, 'Get really fat and happy.'"
She even joked with a Twitter user on Tuesday that when she gets old, she'll call her tour, "the wrinkles and roll tour".
In April, People chose Pink as the cover star of its Beautiful Issue, which was formerly called the "World's Most Beautiful" issue. As Editor-in-Chief Jess Cagle explained, "This year we're renaming it 'The Beautiful Issue' — to make clear that the issue is not a beauty contest. Nothing else has changed. As always it will feature beautiful women (and a few men) of all shapes, sizes, and colors, and it will celebrate the most beautiful qualities of all: strength, humanity, and artistry."
Pink absolutely fits into all of those categories. It isn't solely her appearance that makes her beautiful, but also her talent, her kindness, her openness, her acceptance, and the way she raises her kids, amongst other qualities.
She's an amazing woman inside and out, who continues to teach others to love themselves for exactly who they are — and no matter how they look. That's exactly why Pink is so f*ckin perfect.