PiperChat On 'Silicon Valley' Would Be A Game Changer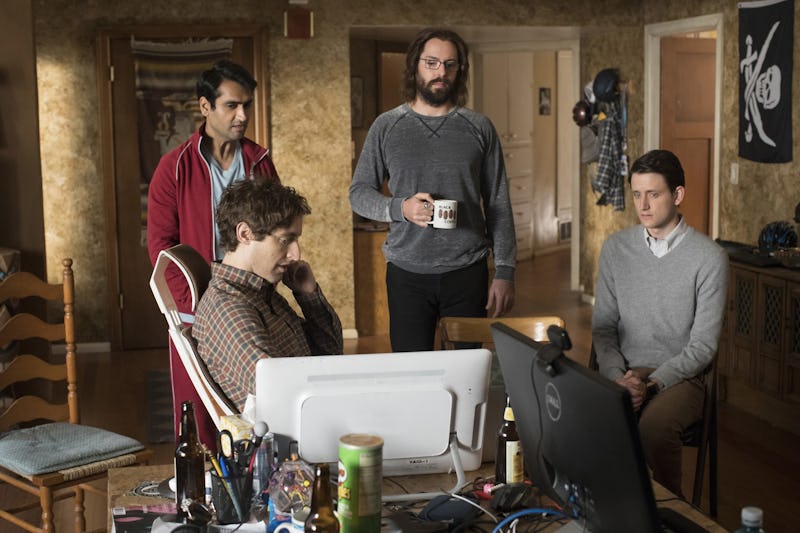 John P. Johnson/HBO
HBO's hit show Silicon Valley premieres a new season on Sunday, April 23. While the trailer for Silicon Valley Season 4 looks just as hilarious as ever, there does seem to be a pretty big change teased: It looks like Richard is quitting, but taking the name Pied Piper with him. It seems that the company may pivot (as Jared would say) and breakout with its new video-based PiperChat. So, is PiperChat real? It's certainly close to some modern day technology.
According to Collider, Richard, played by Thomas Middleditch, isn't satisfied with his compression algorithm at the start of Season 4 and he is starting to want to branch out — which seems to be making him spin out. In the trailer, a harried Richard says he wants to create a new Internet. Collider reported that Gilfoyle, Dinesh, Erlich, and even Jared want control of PiperChat. So, what is this new tech, anyway? PiperChat is similar to Google Hangout, FaceTime, and Skype. It is a video chat app that uses Pied Piper's compression software.
When watching Silicon Valley, fans can't help but admire PiperChat's flawless picture and lack of audio lag. This tech would definitely be a game changer for your next call-in meeting or a conversation with a long-distance partner. Unfortunately, PiperChat's compression algorithm is fictional — so we can't go to the app store and download the perfect video chat app, just yet.
But, when you think about the futuristic video chats audiences dreamed about while watching Back to the Future and Star Trek, the future is now. We do have Skype, FaceTime, and loads of other technology to support video calling — in our pockets. The future is sort of here, already. We only had landline telephones when we first dreamed up fictional futures with video calling, so the tech we are imagining with software like what we see on Silicon Valley may not be so far away.
In the mean time, the stuff we already have access too isn't too shabby. So, pick up the phone and FaceTime your mom already. She'd love to see you, and you have no excuse not to put in some face time.