Pittsburgh Moved To Change Its Gun Laws After The Synagogue Shooting That Killed 11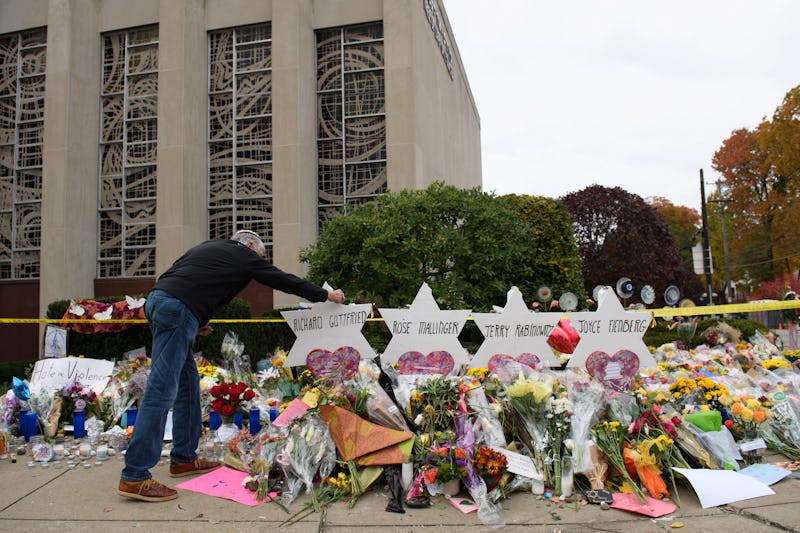 Jeff Swensen/Getty Images News/Getty Images
Facing pro-gun activists and possible legal challenges, the Pittsburgh City Council approved new gun control laws on Tuesday that would restrict the type of weapon used in the Tree of Life Synagogue shooting in October, the Associated Press reports. The council, which is composed of all Democrats, voted 6 to 3 in favor of the measure, and the mayor is expected to sign the bills into law. The legislation will ban the use of military-style assault weapons, armor-piercing ammunition, and high-capacity magazines.
A key detail of the legislation is that it bans the "use" of these items. Pennsylvania state law does not allow municipalities to ban guns outright. So the wording is meant to survive a court challenge, which will likely be mounted by gun rights activists, a small number of whom reportedly jeered as the bills were passed. The use of a weapon includes loading or firing, but explicitly doesn't cover owning, possessing, transporting, or transferring a gun.
"With state-level preemption in mind, we're confident that we've charted a unique course with our shifted focus to 'use' that hasn't yet been fully tested in Pennsylvania courts," Matt Singer, legislative director for Pittsburgh City Councilman Corey O'Connor's, told The Hill.
Despite the legal threats and boos from pro-gun activists, a larger number of gun control supporters gave the city council a standing ovation after it passed the legislation, the AP reported. Some were wearing Moms Demand Action for Gun Sense in America T-shirts.
"I am so proud of my local elected officials today for putting public safety first," Jenny Ruth Partica, a volunteer with the Pennsylvania chapter of Moms Demand Action, said in a press release. "In the wake of the devastating Tree of Life shooting this gun safety package is a much needed first step toward preventing gun violence in our community."
Another Moms Demand Action volunteer told the AP that she was happy with "bold actions" on "sensible" gun laws. "They can't sit around and wait for the state and federal legislators to take action," Jenna Paulat said.
In Moms Demand Action's press release, the group noted that the gun law package included a "red flag" law. That's legislation that would allow police or family members to request a court-issued "Extreme Risk Protection Order," which can temporarily restrict someone's access to firearms. This can be used when a loved one poses "a significant risk of harming themselves or others."
The group also noted that language in the new legislation would automatically trigger a complete ban of assault weapons and high-capacity magazines — not just their use — as soon as the state legislature allows it.
Pittsburgh has a history of running up against the state in this area. The city last tried to ban assault weapons in 1993, but the Pennsylvania legislature soon passed a law to overrule the local ordinance.
"No county, municipality or township may in any manner regulate the lawful ownership, possession, transfer or transportation of firearms, ammunition or ammunition components when carried or transported for purposes not prohibited by the laws of this Commonwealth," the Pennsylvania Uniform Firearms Act reads.
The state Supreme Court eventually ruled on the issue and invalidated the 1993 law. Gun control advocates hope careful wording can protect this iteration until state lawmakers act on gun control.