Pixar's John Lasseter Takes A Leave Of Absence Amid Allegations Of Sexual Misconduct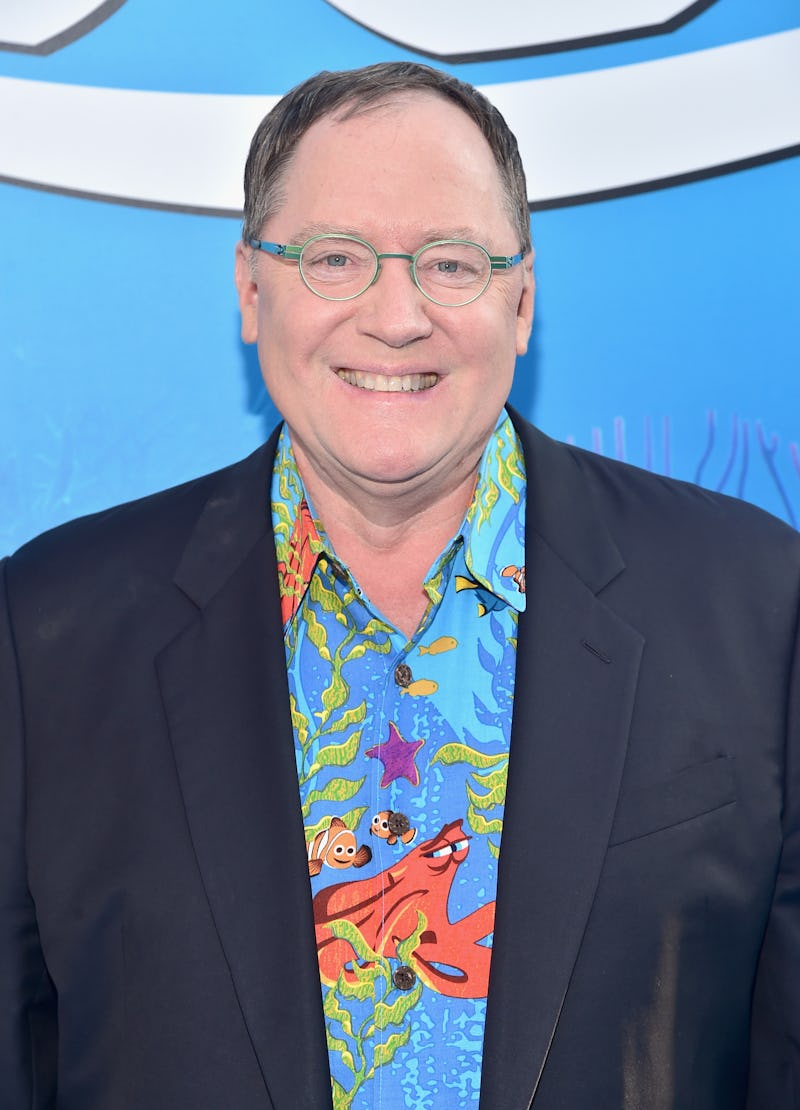 Alberto E. Rodriguez/Getty Images Entertainment/Getty Images
On Tuesday, The Hollywood Reporter announced one of Pixar's founders John Lasseter is taking a leave of absence after the publication obtained a statement from the Chief Creative Officer of Walt Disney and Pixar Animation Studios, in which he cited "missteps" behind the reason for his temporary (so far) departure. "I've recently had a number of difficult conversations that have been very painful for me," he wrote. "It's never easy to face your missteps, but it's the only way to learn from them." He continued,
As a result, I've been giving a lot of thought to the leader I am today compared to the mentor, advocate and champion I want to be. It's been brought to my attention that I have made some of you feel disrespected or uncomfortable. That was never my intent. Collectively, you mean the world to me, and I deeply apologize if I have let you down. I especially want to apologize to anyone who has ever been on the receiving end of an unwanted hug or any other gesture they felt crossed the line in any way, shape, or form. No matter how benign my intent, everyone has the right to set their own boundaries and have them respected.
Lasseter's entire memo can be read here. He also states that he is taking a "six-month sabbatical" that he hopes "will give me the opportunity to start taking better care of myself, to recharge and be inspired, and ultimately return with the insight and perspective I need to be the leader you deserve."
Soon after THR released Lasseter's statement, the site released a report detailing multiple allegations that have been made against him. One of them includes a claim from sources that Rashida Jones left Toy Story 4 (she was previously announced as a co-writer for the screenplay and THR reports she is still credited as one) due to Lasseter allegedly making "an unwanted advance." Jones did not personally detail this account to the outlet and has yet to comment on the allegations reported by THR. Like Jones, THR reports her writing partner, Will McCormack, also walked away from the project. Bustle has reached out to reps for Jones and McCormack for comment, but did not receive a response at the time of publication. Bustle has also reached out to Disney and a lawyer for Lasseter for further comment.
UPDATE: In a statement released to the New York Times, Jones and McCormark stated that they didn't leave Toy Story 4 because of an unwanted advanced, but because of "creative and, more importantly, philosophical differences." Their statement continued, "There is so much talent at Pixar, and we remain enormous fans of their films. However, it is also a culture where women and people of color do not have an equal creative voice." Bustle reached out to Disney and Pixar for comment on this statement, but did not receive an immediate response.
EARLIER: According to THR, Disney declined to comment on Jones' and Lasseter's alleged incident. A "studio source" told the publication that the two went their separate ways over "creative differences." The Los Angeles Times reports Lasseter stepped down as co-director of the film in July.
THR also spoke with multiple anonymous sources who alleged incidents occurred with Lasseter over the years. According to claims made to the outlet, Lasseter "is well-known for hugging employees and others in the entertainment community." One source described as a "longtime Pixar employee" alleged the head of Disney Animation was known for "grabbing, kissing, making comments about physical attributes."
According to these insiders, there were some women working at Pixar who allegedly came up with a move they called "the Lasseter", which they allegedly created in order to stop him from touching their legs. The following account is from a "longtime insider" who claimed that more than 15 years ago he once witnessed a disturbing encounter during a meeting between Lasseter and a woman seated next to him:
"She was bent over and [had her arm] across her thigh. The best I can describe it is as a defensive posture ... John had his hand on her knee, though, moving around."
This "longtime insider" said he asked the woman about what he witnessed and claimed to THR, "She said it was unfortunate for her to wear a skirt that day and if she didn't have her hand on her own right leg, his hand would have travelled."
A different source opened up about Lasseter's allegedly uncomfortable hugs. They claimed, "You'd hug him and he's whisper in your ear, a long time. He hugged and hugged and everyone's looking at you. Just invading the space."
Lasseter's statement and the many allegations made against him come at important time for both him and Disney Pixar, since their latest film, Coco, is set to be released over Thanksgiving weekend.
Regarding Lasseter's memo, an anonymous "former Pixar employee" claimed to THR: "To sum this up as unwanted hugs is belittling and demeaning. If it was just unwanted hugs, he wouldn't be stepping down."
If you or someone you know has been sexually assaulted, call the National Sexual Assault Telephone Hotline at 800-656-HOPE (4673) or visit online.rainn.org.