Pizza Hut's New Car Will Cook Your Pizza In The Back While It Drives To You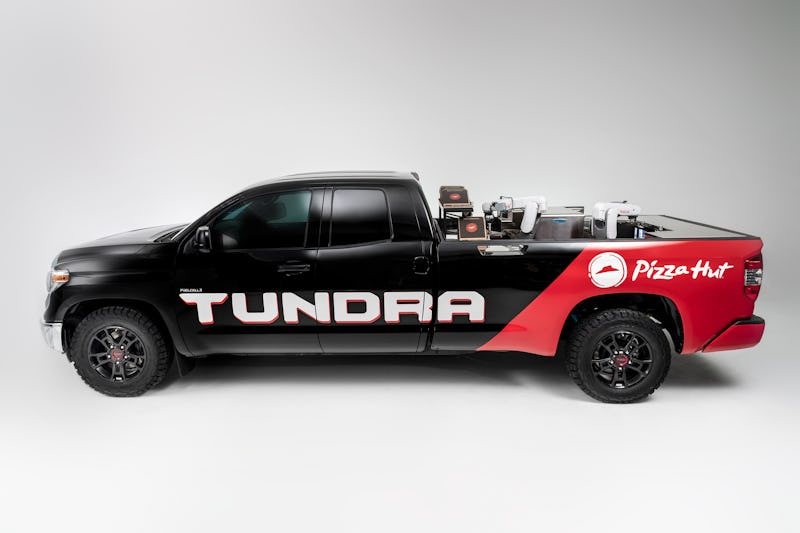 Pizza Hut
The history of pizza delivery is deeper (dish) than you probably think. According to Food & Wine, the first ever pizza delivery took place in 1889, when then Queen Margherita of Savoy in Italy grew tired of the fancy meals she was typically served, and craved something more familiar and comforting. She opted for some local fare, and a well-known pizza chef named Raffaele Esposito created and delivered to her a pizza with tomato, basil, and cheese named for her highness.
Fast forward more than 100 years and pizza delivery is getting a makeover thanks to Pizza Hut and the Toyota Tundra PIE Pro, which is bound to change the pizza delivery experience forever.
Typically when you order a pizza delivery, you call or place your order online. A chef at the restaurant then prepares and cooks your order, and loads it into a car, where someone else drives it to your front door. But, the time between pizza leaving the oven and arriving at your front door is, perhaps, the most critical. Many who live in the city take for granted how close they are to a pizza place, but if you live an hour away from a Pizza Hut your pizza may not be piping hot when it gets to your door.
Pizza Hut sees this as a big issue, so the chain just debuted a way to eliminate that travel time, with an inventive new delivery vehicle.
Pizza Hut explained in a press release that the The Tundra PIE Pro is a one-of-a-kind, zero-emission collaboration between automotive company Toyota and Pizza Hut. The mobile pizza machine is capable of both creating and delivering oven-hot pizza wherever the customer may be. The secret lies in the car's "...computer-guided robotic arms out of a self-contained 'Kitchen,'" that "prepares oven-hot Pizza Hut pizza in just 6-7 minutes."
Here's how it works, per the press release: Once a pizza is ordered, the first robotic arm opens the refrigerator, removes the pizza, places it on the oven conveyor belt, and returns to close the refrigerator. The pizza rides through a high-speed oven. After the pizza has cooked, a second robotic arm on the other side removes the finished PIE, places it on the cutting board, cuts it into six slices, and boxes it up. The car then delivers the pizza directly to the customer.
Every single component of the onboard kitchen is powered by a "hydrogen fuel-cell electric powertrain" per Pizza Hut's press release. From start to finish, the pizza-making process takes between six and seven minutes.
While the thought of a robot making your pizza is pretty cool in itself, the best part is the Tundra PIE Pro allows Pizza Hut to significantly expand the area where it delivers. Never again do those who live far from a restaurant have to deal with cold pizza.
"Nothing tastes better than a fresh Pizza Hut pizza straight out of the oven," said Marianne Radley, the chief brand officer of Pizza Hut, in a statement. "The Tundra PIE Pro brings to life our passion for innovation, not just on our menu but in digital and delivery in order to provide the best possible customer experience."
The Tundra PIE Pro was introduced at Toyota's 2018 Specialty Equipment Market Association (SEMA). When you can expect to see it out on streets has yet to be revealed, but will hopefully be hitting the streets sometime in the next few years.