2,300 People Went To The Emergency Room For Pizza-Related Injuries Last Year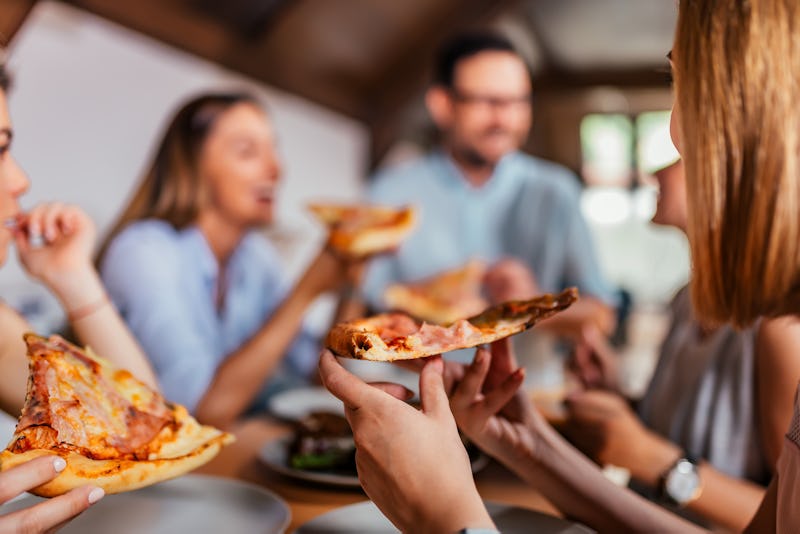 Fotolia
In a confusing and wonderful decision in 2011, Congress ruled pizza is a vegetable. Kind of. The Huffington Post explains members of Congress ruled pizza has enough vegetable content to be considered one for school lunches. For a decision like this to be made, a lot of higher-ups in the government have to weigh in, and there is a fair amount of bureaucracy in the process. But before you believe the ultimate food is your ticket to immortality, take a look at these stats about pizza-related injuries. Apparently, this day and age, even "vegetables" could put you in the hospital.
On Sept. 5, the United States Consumer Product Safety Commission took to Twitter to acknowledge a startling statistic: 2,300 emergency room visits were associated with pizza in 2017 alone. The graphic explains "injuries included, but were not limited to: cuts (from cutting pizza), burns (from pizza and pans), falling while carrying pizza, falling in pizza places, [and] falling out of bed while reaching for pizza." If you think about it, many of these injuries could happen with any number of non-pizza foods. But, few other meals typically have bountiful molten cheese and sauce like pizza does. There is maximum burn potential with pizza.
As noted by SoYummy, the consumer Product Safety Commission (CPSC) collects injury reports and admission data from 96 hospitals in the United States and United States territories. The commission takes this data and compiles it in its trusted National Electronic Injury Surveillance System (NEISS) as a way of keeping tabs on consumer product-related injuries. If major trends arise in certain areas, the CPSC knows where to pay special attention, and maybe intervene. Joe Galbo, the Social Media Specialist for the CPSC, told Munchies, "Pizza is a good example [of NEISS data]... The FDA obviously regulates food, but we can find injuries associated with pizza by looking for it in the injury descriptions we receive from hospitals. Based on these reports our NEISS team uses an equation to create a national estimate of injuries."
Originally, a mere 63 injuries reported last year could be linked to the food. But, when its Epidemiology department dug a little deeper, it was able to determine there were actually over 35 times more pizza accidents that took place.
But, is this typical? Determining whether or not the staggering number from 2017 is difficult to judge. Galbo explained to Munchies, "I wish we could make a call on how Americans are doing as far as eating pizza, but since the number of injuries is so low from year to year it wouldn't be scientifically appropriate to say that the change in injuries is statistically significant."
Before you chef's kiss your pizza-eating days goodbye, take solace in the knowledge there are plenty of other supposedly nonthreatening items that cause more harm than pizza does each year. Books, for instance, were associated with almost 12,000 injuries last year, according to the CPSC. Video games were linked with over 10,000 injuries in 2017; almost 8,000 were associated with backpacks.
Danger lies everywhere: in your oven, on your back, in your bookshelf. You don't need to forego your favorite products to remain safe, but you should stay vigilant. When in doubt, refer to the Consumer Product Safety Commission and their delightful, outlandish Twitter account.