This Iowa Official's Quote About Planned Parenthood & Abortion Rates Is So Revealing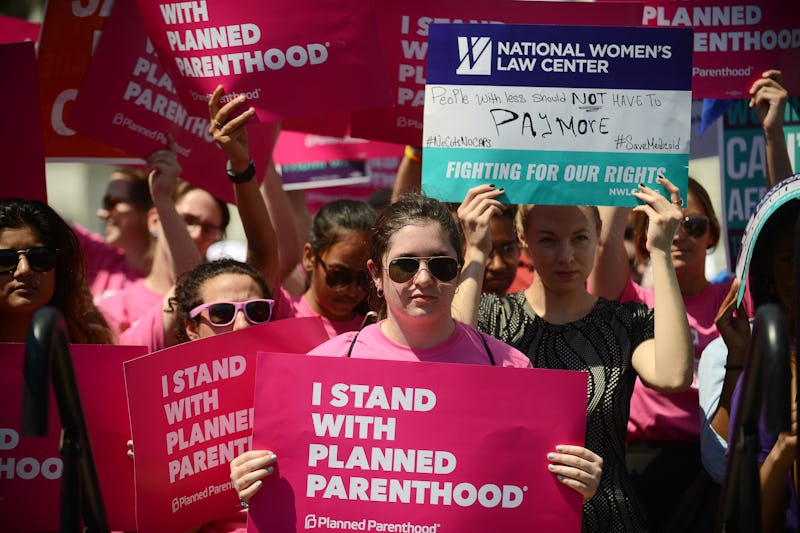 Astrid Riecken/Getty Images News/Getty Images
Iowa voted last year to block funding for any family planning providers that offered abortions. The state implemented a new family planning system to replace those providers — but the data is showing that it's not giving out nearly as many birth control services as before. Ironically, the new system may be causing more unplanned pregnancies, which means that Planned Parenthood closings in Iowa could cause more abortions, as one official suggested.
"I understand it's counter-intuitive to say," said Mark Anderson of the state's Council on Human Services, according to The Des Moines Register, but, "by closing Planned Parenthoods, which provide abortions, you might wind up with more abortions." Anderson is personally an opponent of abortion but said that the data coming out of Iowa's new family planning system is worrying him.
If true, Iowa would be far from the first state to experience such a trend. Texas saw a hike in its abortion rate after it closed over 80 of the state's Planned Parenthood clinics, according to a 2017 study in the Journal of Health Economics. The report found that Texas teens were terminating their pregnancies 3 percent more often in the three years after the closures. Studies typically show that abortion rates are lower where the procedure is legal and accessible.
According to the Iowa Department of Human Services, its new program covered 970 family planning services between April and June of this year, which marks a decline of almost three-quarters from last year when 3,637 services were covered over the same period. Enrollment decreased by over 50 percent — 8,570 patients to 4,177 — from June 2017 to June 2018.
"This is exactly what we were concerned would happen — that people who need this program would not get enrolled and would not get services," Jodi Tomlonovic of the Iowa Family Planning Council told The Des Moines Register.
Last year's law forced Iowa to give up its eligibility for $3 million of annual federal Medicaid money. Planned Parenthood says it lost $2 million, according to The Register. The group was forced to shut down four Iowa clinics in Burlington, Bettendorf, Sioux City, and Keokuk, which together had served nearly 15,000 patients in the three years before closing, per The Register.
According to a 2014 study by the Pew Research Center, 52 percent of adults in Iowa believe that abortion should be "legal in all/most cases" (the numbers were higher among surveyed women). That's not far off from the current national average: 58 percent of Americans currently believe that the procedure should be legal in all or most cases, according to Pew.
Debates over abortion laws have become a major issue in the Iowa midterms this season and particularly the governor race. Incumbent Kim Reynolds, who is a Republican, passed a bill earlier this year that outlaws abortions once a fetal heartbeat can be heard (about six weeks into a pregnancy; women usually realize they're pregnant between four and seven weeks in, according to the American Pregnancy Association).
She argued with her Democratic opponent, Fred Hubbell, over the issue in a debate on Wednesday, saying that she's committed to "fighting on behalf of the unborn." Hubbell brought up Roe v. Wade and called himself an "unabashed supporter" of the landmark reproductive rights ruling.