Planned Parenthood Says The Health Care Bill Is Still The Absolute Worst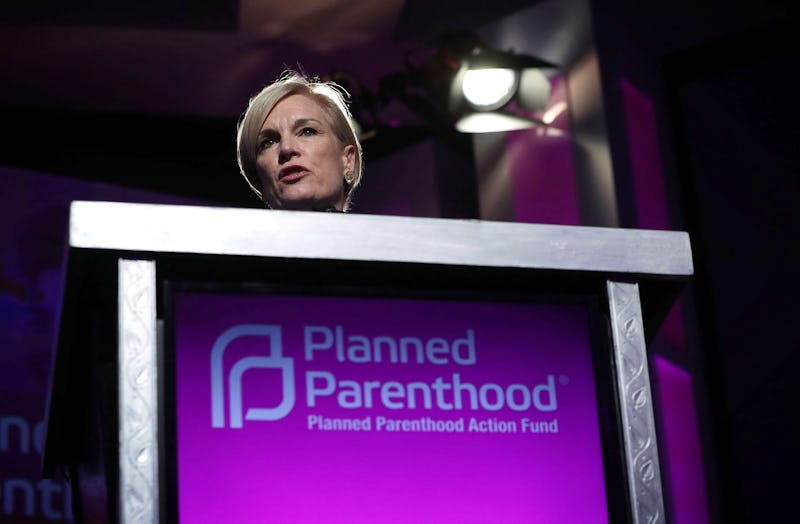 Alex Wong/Getty Images News/Getty Images
On Thursday, Republican Majority Leader Mitch McConnell unveiled the latest draft of the GOP health care bill. The latest revisions were made in hopes of garnering support from moderate conservatives who were particularly concerned by previous drafts' cuts to Medicaid and threats to defund Planned Parenthood for a year. Shortly after the updated draft was released to the public, Cecile Richards, president of Planned Parenthood responded to the GOP health care bill, and her concerns lay squarely with how it will affect women.
"With this latest version of Trumpcare, Americans will pay more and get less, but women will pay the biggest price of all," Richards wrote. "This is, hands down, the worst bill for women in a generation, especially for low-income women and women of color."
Even after revisions, the updated draft of the health care bill still blocks Planned Parenthood from accepting Medicaid reimbursements for a year. A Congressional Budget Office report reveals that withdrawing federal funds from Planned Parenthood for one year would cause as many as 15 percent of low-income and rural women to lose access to birth control, cancer screenings, and any form of family planning. Given these numbers, federally defunding Planned Parenthood casts a large shadow on women's health care by itself. However, that's not Richards' only problem with the updated bill.
On top of blocking patients on Medicaid from getting care at Planned Parenthood, and making large cuts to Medicaid funding in general, the revised bill also strips the Essential Health Benefit protections enacted under the Affordable Care Act. Notably, the essential benefits gutted include maternity coverage and prescription drugs, among other things. Given these changes, the new health care bill could cause 13 million women to lose maternity care. It's the reality of these numbers that fueled Richards' response to the new bill.
"Slashing Medicaid, cutting maternity coverage, and blocking millions from getting preventive care at Planned Parenthood would result in more undetected cancers and more unintended pregnancies," Richards wrote. "And it puts moms and their babies at risk."
When it comes to concerns about women's health care, and more specifically the fight for Planned Parenthood funding, Richards is hardly alone in her concerns. A Quinnipiac poll shows that 80 percent of voters support Planned Parenthood funding, and oppose efforts to block federal funding.
At least right now, the bill doesn't have enough Senate votes to pass, but that doesn't mean the fight is over.
"Now is the time for every person who cares about women's health and access to affordable, quality care to speak out and join this fight," Richards wrote.