Planned Parenthood Warns Against The GOP's Latest ACA Repeal Plan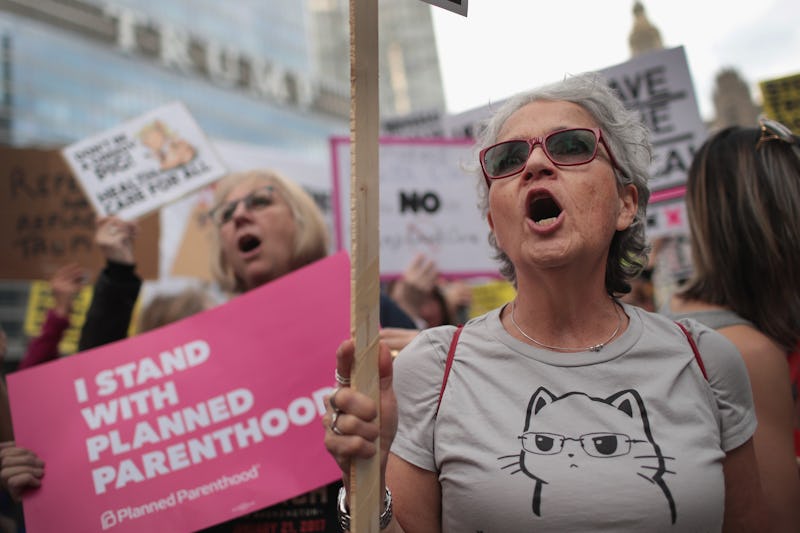 Scott Olson/Getty Images News/Getty Images
The Republican repeal and replace bill, the Better Care Reconciliation Act, bit the dust in its current form on Monday after the number of GOP senators opposed reached four. But this is not the time for complacency. There's talk that the next version — a repeal without replacement bill — could be even worse. Planned Parenthood spoke out following the health care bill failure and warned against a possible repeal only bill, pointing to how huge of a disaster it could be.
"In case you're wondering if that bill @SenateMajLdr will now bring to floor is better than the one that just failed...it's not," Planned Parenthood wrote on Twitter with a finger pointing down to Sen. Chris Murphy's tweet from late Monday. "CBO scored repeal without a replacement - it's a humanitarian disaster of incomprehensible scale. 32M lose insurance. Premiums go up 100%," the senator wrote.
Both Murphy and Planned Parenthood are correct; it would be a disaster. Waiting until 2018 or later to replace Obamacare would leave 18 million people uninsured the following year according to the Congressional Budget Office. By 2026 that number would reach 32 million. Premiums would also go up, as Murphy suggests. They would go up by 25 percent the first year and double by 2026 — a greater rise than seen under most years of Obamacare.
The CBO painted a terrible picture of what is to come should a repeal bill pass. In addition to people being forced off insurance due to costs, there's the chance that in large parts of the country there will not be an insurance provider available. "They would be leaving in anticipation of further reductions in enrollment and higher average health care costs among enrollees who remained after the subsidies for insurance purchased through the marketplaces were eliminated," the report reads. That would result in 10 percent of the country not being covered in the individual market.
So not only will insurance potentially cost twice as much as it does now, the fact that there will be no subsidies available to cover it would be made worse by the fact that no insurers will be participating in the individual marketplace. Imagine wanting to buy insurance and it's not even for sale. That's what could happen if Obamacare is repealed with nothing to replace it.
Even conservative groups caution against repealing all at once. The Heritage Foundation wrote in a report earlier this year, "Congress must replace Obamacare through a careful transition process that establishes everyone on more solid ground." A full repeal would not be careful or a transition. It would be a sudden change for the millions of Americans, particularly those that get their insurance through the marketplaces or the Medicaid expansion.
"Timing and sequencing of these efforts are complex, and proper execution is critical. Congress, the Trump Administration, and the states should work together both to ensure a smooth transition for the repeal of Obamacare," the Heritage foundation wrote.
So it's not just Democrats and the left who should oppose a repeal only bill. The GOP too must listen. Consider calling your senators today.