Playboy Leaves Facebook & These 11 Others Are Breaking Up With The Platform, Too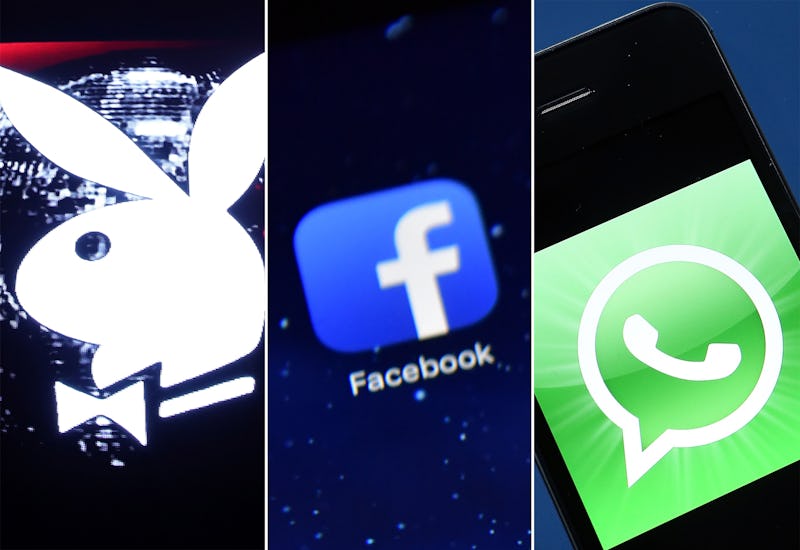 Justin Sullivan/Getty Images News/Getty Images Carl Court/Getty Images News/Getty Images Christopher Polk/Getty Images Entertainment/Getty Images
Lifestyle and entertainment magazine Playboy has deleted its Facebook page in response to news that the platform experienced a massive user data breach in 2015. Citing both this and Facebook's "sexually repressive" nature, CEO Cooper Hefner immediately removed the magazine's page from the site on Wednesday. Playboy is only the latest of many organizations and people who have recently done so.
Earlier this month, news broke that Facebook had divulged the raw data of 50 million user profiles to the consulting firm Cambridge Analytica, which used that information to aid Donald Trump's campaign during the 2016 election. The breach occurred when Facebook allowed a researcher to publish a quiz app that not only collected players' information but also the data of their friends (without their consent).
Since then, Facebook's stock has been plummeting and many have been calling for a boycott of the platform. CEO Mark Zuckerberg apologized for the breach and vowed to do better — he even said he'll testify in front of Congress. In a full-page apology ad, he wrote, "This was a breach of trust and I'm sorry we didn't do more at the time. I promise to do better for you."
Hefner offered the way the situation has been handled as one of the reasons why Playboy is leaving Facebook. "Learning of the recent meddling in a free U.S. election further demonstrates another concern we have of how they handle users' data — more than 25 million of which are Playboy fans — making it clear to us that we must leave the platform," he wrote on Twitter on Wednesday.
Here are some of the people and organizations that are deleting Facebook or ceasing their advertising on the platform.
First Off: Playboy
The Cambridge Analytica scandal isn't the only reason Hefner gave for leaving the site. In his Wednesday statement, he also noted that Playboy considers Facebook to be "sexually repressive" even though he's "tried to craft our voice for the platform."
While Hefner didn't specify what he meant by that, he may have been referring to Facebook's community standards, which forbid nudity. Playboy stopped including nude images on its website in 2014, in part to make its content more amenable to sharing on Facebook and other social media platforms. Its monthly visitor count increased to five times its original size soon after, which suggests that social media has been an asset to the magazine — and back in 2011, Playboy was Facebook's "most liked" magazine.
But apparently all of that isn't enough to keep Playboy on Facebook. The print magazine started including nudes again in March 2017, which could be a sign that it wants to reassociate its brand with its earlier, raunchier roots. Whatever the specific reason, Hefner seems to be trying to position Playboy as the sexually progressive opposite to Facebook's "sexual repression."
The Founder Of WhatsApp
On March 20, WhatsApp co-founder Brian Acton was one of the first major voices calling a Facebook boycott, just days after the Cambridge Analytica news broke. "It is time. #deletefacebook," he wrote on Twitter. Acton's move is especially notable because Facebook owns WhatsApp.
SpaceX & Tesla
On Friday, Elon Musk responded to #deletefacebook calls by getting rid of the pages for his two biggest companies, Tesla and SpaceX. Replying to Brian Acton's tweet, Musk wrote, "What's Facebook?" and apparently deleted first Tesla's, and then SpaceX's pages.
"I don't use FB & never have, so don't think I'm some kind of martyr or my companies are taking a huge blow," he later added. "Also, we don't advertise or pay for endorsements, so ... don't care."
Sonos
Electronics company Sonos said last week that it will stop advertising on not just Facebook, but also Instagram, Twitter, and Google for a week starting on Monday.
"The Cambridge Analytica scandal, like many recent headlines coming out of Silicon Valley, raises questions about whether Big Tech is doing enough to balance its own interests with one of its biggest responsibilities: Safeguarding your privacy," the company explained.
But they're not breaking up for good. After going dark for the week, it will return to the platform. "Despite the flaws of these massive digital networks, we fundamentally believe in the power of technology to bring us together and to create deeper, shared experiences," the company wrote on its blog.
Cher
"2day I did something VERY HARD 4 me," Cher tweeted on March 20. "I deleted my Facebook account." She noted that she enjoyed the platform's social uses and that it had helped her with her charity work, but said that she "love[s]" her country and that "there are things more important than money."
Téa Leoni
Actress Téa Leoni announced her departure from the platform on March 20.
This week, I'm leaving Facebook. It's the spreading of misinformation during and since the 2016 election, and the unauthorized sharing of personal information — just can't be here under these circumstances. I hope Facebook finds a better path.
Mozilla
On Thursday, web browser Mozilla announced that it was taking a break from advertising on Facebook, at least temporarily.
"When Facebook takes stronger action in how it shares customer data, specifically strengthening its default privacy settings for third party apps, we'll consider returning," the company wrote.
Pep Boys
Auto retailer Pep Boys has also stopped advertising on the platform, telling Reuters that it would not resume "until the facts are out and corrective actions have been taken."
Will Ferrell
On Tuesday, Will Ferrell posted a message on Facebook announcing that he was planning on deleting his account 72 hours later.
"I can no longer, in good conscience, use the services of a company that allowed the spread of propaganda and directly aimed it at those most vulnerable," he wrote.
Commerzbank
The second-biggest bank in Germany told Reuters on Thursday that it would temporarily stop advertising on Facebook because "brand safety and data security are very important to us."
Farhan Akhtar
Bollywood director and director Farhan Akhtar tweeted on Monday:
Good morning. This is to inform you all that I have permanently deleted my personal Facebook account.
Adam McKay
"Facebook account officially deleted," tweeted Adam McKay, director of films including Anchorman and The Big Short, on March 20. "I'm a free man."
The minor exodus of organizations and people from Facebook is significant and could help inspire Mark Zuckerberg to implement greater user data protections. But there's no sign that it will seriously damage Facebook any time soon. As Quartz analyzed, the platform — at least for the time being — remains "too big to fail."