Do Not Give Beyoncé The "Post-Baby Body" Treatment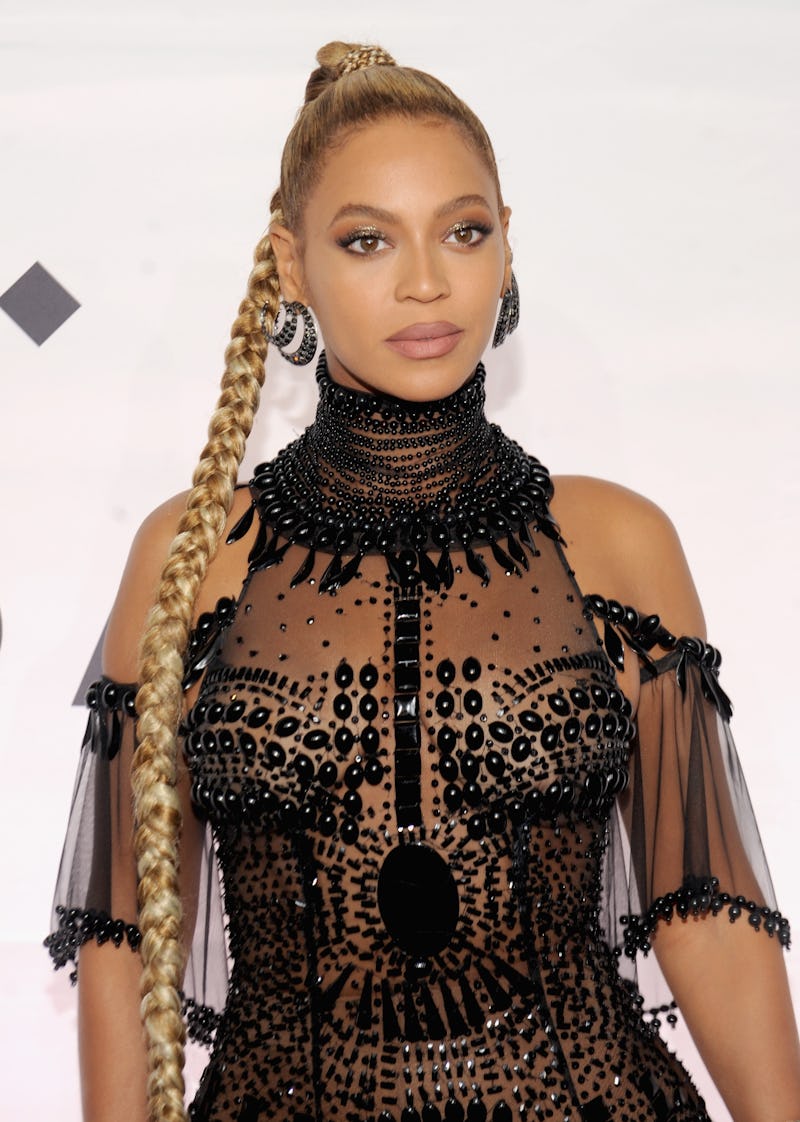 Brad Barket/Getty Images Entertainment/Getty Images
One would think that having a baby would be treated as a celebratory time, but unfortunately, it sometimes comes with even more impossible standards that women feel like they have to live up to. This includes the stress put upon women to achieve the "perfect" body after giving birth, which brings me to an important point: Now that she has reportedly welcomed her twins, please, do not give Beyoncé the "post-baby body" treatment.
It happens all the time, especially with celebrities. They are constantly in the spotlight, so when female celebrities have a baby — or babies, in Beyoncé's case — their bodies become an even bigger topic of conversation. It seems that immediately after delivering a human being, tabloids, fans, and people in general are already discussing how the woman will lose the baby weight and what kind of diet she's going to start. Then, when or if she does "get back in shape," the headline becomes focused on how much weight she lost and how fantastic she looks.
That is way too much pressure for a mother, who already has so much to focus on and worry about. Why does her body matter so much? Also, why does anyone care if she "goes back to her pre-baby body"? Why can't she just enjoy this incredible moment in her life?
Basically, people should back off and keep their "post-baby body" opinions to themselves, for one, because they are offensive to the mothers themselves. Celebrity mom Hilary Duff agrees. After giving birth to her now five-year-old son, Luca, in 2012, Duff opened up to Health magazine in December 2014 about the frustration that came with how her body was viewed. She said,
"The second I had Luca, I went to go get my hair blown out at the salon, and I hadn't stepped outside in, like, 15 days. I was learning how to be a new mom, and I needed to go get my hair done. Then they're like, 'Hilary Debuts Her Post-Baby Body!' I was like, I'm not debuting sh*t right now. I'm just going on an errand run! There is way too much pressure on women these days. It took me a whole 10 months to build a baby."
There are many other actors who agree, including Anne Hathaway. In August 2016 after giving birth to her first child, she took to Instagram to talk about weight gain during pregnancy. Next to an image of a pair of her jeans she cut into shorts, the Ocean's Eight actor wrote,
There is no shame in gaining weight during pregnancy (or ever). There is no shame if it takes longer than you think it will to lose the weight (if you want to lose it at all). There is no shame in finally breaking down and making your own jean shorts because last summer's are just too dang short for this summer's thighs. Bodies change. Bodies grow. Bodies shrink. It's all love (don't let anyone tell you otherwise.) Peace xx #noshame #lovewhatyouhavebeengiven."
The expectation for a mother to give birth, shed weight, get fit, and look perfect is infuriating, to say the least. As Zooey Deschanel told Redbook in April 2016 after giving birth to her daughter, Elsie Otter, "To expect someone to look like her pre-baby self immediately is odd. Because you just grew a human and then birthed that human — there's a lot that needs to go back to where it was. All your organs move around, for chrissakes!"
As for Beyoncé, after she gave birth to Blue Ivy in January 2012, there were plenty of headlines focused solely on her "post-baby body." For example, Us Weekly wrote in February 2012, "Beyonce Reveals Sexy Post-Baby Body 1 Month After Giving Birth." In May 2012, the publication used the headline, "Slim Beyoncé Wears Sexy Cowgirl Outfit for First Post-Baby Concert." And how about this one from Pret-A-Reporter in February 2012: "Beyoncé Bounces Back from Baby in a Tight Dress by Alice Temperley."
It's truly mind-boggling how much focus is put on a woman's body before, during, and after pregnancy. "Bouncing back," as some headlines put it, isn't top priority for some mothers — and that's OK. It's also totally fine if a woman chooses to lose the weight right away. Whatever she decides to do with her body is her decision. By no means she should be shamed or pressured into a decision.
Take Bey. In December 2013 (almost one year after Blue Ivy's birth), she opened up about losing the weight she gained during her pregnancy. She explained it in an uplifting way for other mothers who know what it's like to give birth, experience the life changes that come with it, and face the pressures that follow.
As part of her "Self-Titled" feature, she revealed,
"I was very aware of the fact I was showing my body. I was 195 pounds when I gave birth. I lost 65 pounds. I worked crazily to get my body back. I wanted to show my body! I wanted to show that you can have a child and you can work hard and you can get your body back. I know finding my sexuality, getting back into my body, being proud of growing up, it was important to me that I expressed that in my music, because I know there's so many women who feel the same thing after they give birth. You can have your child, and you can still have fun and you can still be sexy and have dreams and still live for yourself."
The Lemonade artist also discussed as People's "World's Most Beautiful Woman" in May 2012 that she didn't always feel beautiful when she was pregnant with Blue Ivy. "I didn't feel that I looked beautiful during birth — but who does?" she said. "After being pumped with all those fluids and gaining so much weight, with my swollen lips and cheeks, I barely recognized myself. I tried my best to roller-set my hair, and I wore my gloss when I arrived at the hospital. I committed to the end and wore my kitten heels."
In the end, Bey came to realize that she could've cared less about her physical appearance. "It makes me laugh thinking about it," she told People. "But after many hours of labor, I didn't care how I looked. It was all about the miracle that God gave me — the opportunity to deliver a human being."
That last statement says it all: A woman's body is remarkable in the sense that it is able to change in magnificent ways in order to give birth to a human being.
The fact that there is now this "post-baby body" culture is dangerous. These stories and headlines are sending the message that after giving birth, a woman's body must return to the same state it was before; as if having a baby tarnishes it somehow. It's a harmful mentality to have.
Not only can it be damaging for the woman who is being discussed, but it also impacts others, including other mothers. Even young girls are affected. They are going to see these "post-baby body" headlines and think they have to look a certain way to feel accepted or to feel beautiful. That is not the kind of negative body image that any of us should be putting out there.
Yet, even before the arrival of Beyoncé's twins, the "post-baby body" headlines started. I know, it doesn't make sense to me, either. Here's hoping that now that she has reportedly given birth, there will be less focus on "post-baby bodies" and more emphasis on the beauty that is a woman's body during and after pregnancy.