Amal Clooney Is Much More Than Just George's Wife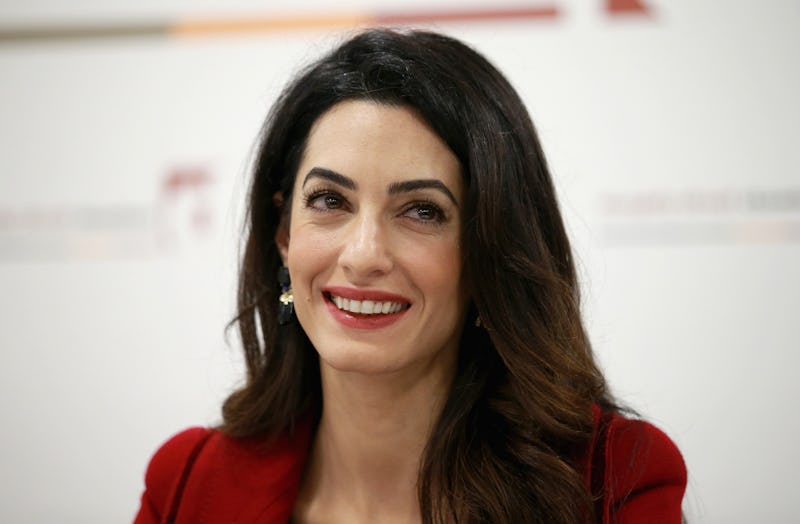 Chris Jackson/Getty Images Entertainment/Getty Images
If you haven't heard the exciting announcement yet, Amal and George Clooney welcomed twins named Ella and Alexander on Tuesday, the couple's rep confirmed in a statement. As thrilling as the news is, it comes with a bit of frustration due to how many fans and media outlets are describing Amal. Let me make this extremely clear: Everyone needs to stop referring to Amal as just George's wife. Yes, she is obviously his spouse, but she is so much more than that.
How she should be referred to is either by using her actual name, goddess (because, duh), badass powerful woman, or you know, her job title, which is an international human rights lawyer. The 39-year-old is beyond successful, so why not take note of that when reporting about this huge life moment for her? It's unbelievable that this is 2017 and women are still being referred to as someone's "wife," "girlfriend," or "mother," rather than accompanying their name with their accomplishments.
As Amy Poehler and Tina Fey pointed out at the 2015 Golden Globes, where George received the Cecil B. DeMille Award, despite all of the recognition he continues to receive, really, Amal should be the one winning all of the awards. "George Clooney married Amal Alamuddin this year," Fey said during the opening monologue. "Amal is a human rights lawyer who worked on the Enron case, was an adviser to Kofi Annan regarding Syria, and was selected for a three-person U.N. commission investigating rules of war violations in the Gaza Strip. So tonight, her husband is getting a lifetime achievement award."
Yeah, it doesn't make much sense, does it? This brings me back to why Amal shouldn't only be seen as George's wife. She is more than her relationship with her husband. Again, yes, it's a big part of who she is, but it's not the only important aspect of her life. The lawyer fights daily on behalf of others and works hard to improve the world one case at a time. This is how she should be defined.
The way Amal is often being referred to has also caught the attention of many Twitter users, who spoke out about the way she's being defined:
So next time you see Amal with George or they make headlines for whatever reason, remember that she's a human being with passions, dreams, and massive achievements — not just a wife.