This Is How Polish Women Are Protesting For Abortion Rights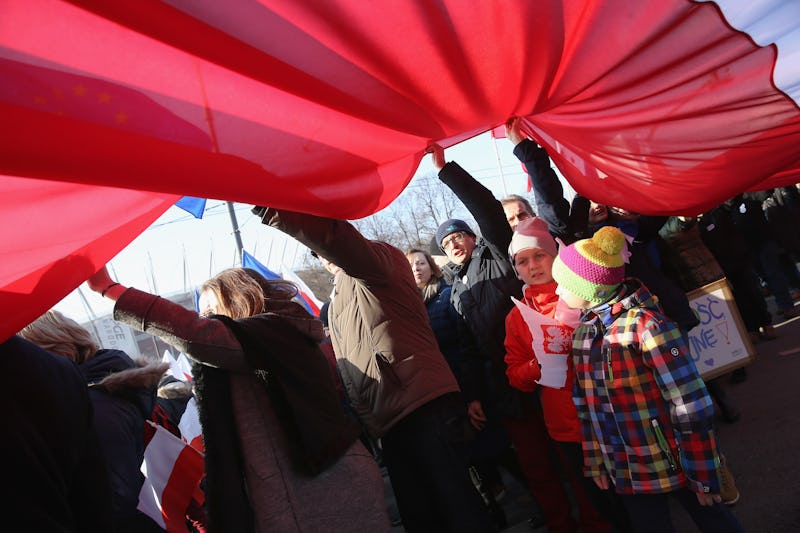 Sean Gallup/Getty Images News/Getty Images
Abortion in Poland is highly restricted under the right-wing governing Law and Justice Party. But that anti-abortion attitude is under pressure: on Wednesday thousands of Polish women protested the government's anti-abortion moves in decidedly unapologetic terms, with banners, chants, and rallies. Women reportedly donned black as part of the protest to express mourning and outrage.
The protests came after the Polish government rejected a proposal to free up women's access to abortion services in the country. Instead, the government pushed a piece of legislation that, if passed, could deny women the ability to terminate a fetus with congenital abnormalities.
The looming possibility of such a bill becoming law is oppressive for pro-choice activists in the country. Krystyna Kacpura, director of the Federation for Women and Family Planning in Poland, explained it like so to The Guardian:
This is a black day for Polish women. If the bill is passed, Polish women will die. We are treated as unneeded – we are just there to give birth, and if we give birth to a very sick child, we are left to bring the child up by ourselves without any help.
On the anti-abortion side, government figures like Law and Justice Party leader Jaroslaw Kaczynski have remained steadfastly in favor of outlawing abortion and have prioritized the rights of the fetus over the rights of the mother in the national debate. "We will strive to ensure that even in pregnancies which are very difficult, when a child is sure to die, strongly deformed, women end up giving birth so that the child can be baptised, buried, and have a name," Kaczynski said.
The possibility of the anti-abortion legislation becoming law could have serious consequences for women seeking safe and accessible abortion care in Poland. But this won't be the first time that a conservative government has sought to curtail women's access to such reproductive health care in the country: in 1989, the government tried to implement a full-scale, blanket ban on abortion, but the move was ultimately thwarted by massive protests led by pro-choice Polish women.
Similarly in 2016, activists across the country took to streets to voice their political dissent with the government on abortion restriction. During their demonstrations, these women activists wore black, marched in the streets, and protested by refusing to do house chores, according to BBC. One of the activists, Anna Blus, told Amnesty International, "At demonstrations across Poland protesters have held up coat hangers as a reminder of the primitive and dangerous methods of self-induced abortion women would be compelled to resort to."
In present-day Poland, abortion is legal but it's limited to three situations. For instance, an abortion is permissible when a Polish woman's health is determined to be in danger. Other circumstances are when the fetus is shown to have a congenital abnormality or when the pregnancy was caused by rape or incest. Abortion is restricted outside of those circumstances. And while it isn't a crime for Polish women to get medical assistance to terminate a pregnancy out of those three conditions, those who assist the woman in getting the abortion can be prosecuted.
Entirely outlawing abortion could result in extremely dangerous conditions for women in Poland. Without legalized and accessible abortion care, the country's maternal mortality rate could go up. It's such a serious issue that the Guttmacher Institute and World Health Organization conducted research and concluded that around 25 million unsafe abortions were conducted in a span of four years between 2010 and 2014. Liberalizing access to abortion could save such lives, according to one of the researchers, Bela Ganatra.
In the research paper, Ganatra pointed to how women and their families' health deteriorate when they lack access to "effective contraception and safe abortion services." "This should not happen," she wrote, "but despite recent advances in technology and evidence, too many unsafe abortions still occur, and too many women continue to suffer and die."