Police Questioned Kavanaugh About A Bar Fight Back In 1985 — Here Are The Details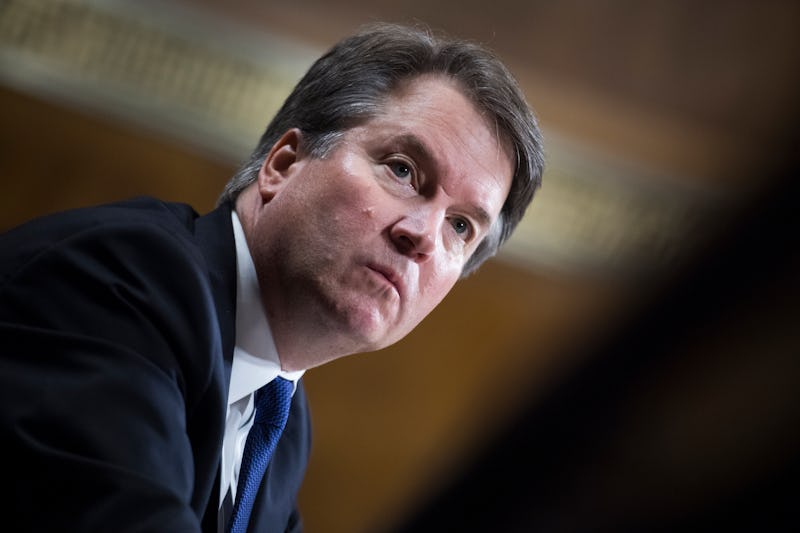 Pool/Getty Images News/Getty Images
A new report by The New York Times reveals that police questioned Brett Kavanaugh about a bar fight in 1985. Kavanaugh was cited in the police report as having been supposedly involved in the altercation, along with three other friends during his undergraduate years at Yale. In the police report, Kavanaugh was questioned about apparently "throwing ice" at a man, an action that he denied at the time. The police report does not suggest that Kavanaugh became physically involved in the fight beyond that accusation. Bustle has reached out to the White House for comment.
Kavanaugh has not yet responded to this report, but has previously insisted that any accusations of sexual misconduct or aggressive behavior while drinking are entirely unfounded. During his opening remarks to the Senate Judiciary Committee last Thursday, Kavanaugh doubled down on his denial, maintaining that he has never assaulted anyone, and that he's never gotten drunk to the point of being belligerent, incoherent, or inappropriate.
White House Press Secretary Sarah Sanders responded to the Times report Monday night on Twitter:
Democrats desperately attack Judge Kavanaugh for throwing ice during college. What motivated New York Times reporter to write this ridiculous story? Throwing ice 33 years ago, or her opinion of Judge Kavanaugh in July?
This report by The New York Times was corroborated by Kavanaugh's old college classmate, Chad Ludington. Ludington has recently come out to accuse Kavanaugh of lying about his drinking habits to the Senate Judiciary Committee. In a statement on Sunday to reporters while he stood in his North Carolina driveway, Ludington said, "On one of the last occasions I purposely socialized with Brett, I witnessed him respond to a semi-hostile remark, not by defusing the situation, but by throwing his beer in the man's face."
Ludington continued,
The guy swung at Brett ... [and Chris Dudley] took his beer and smashed it into the head of the guy, who by now had Brett in an embrace. I then tried to pull Chris back, and a bunch of other guys tried to pull the other guy back. I don't know what Brett was doing in the melee, but there was blood, there was glass, there was beer and there was some shouting, and the police showed up.
Ludington claimed the bar fight occurred after Kavanaugh and his friends attended a UB40 concert on Sept. 25. UB40 is a reggae and pop band that was popular in the 1980s.
Several of Kavanaugh's other former classmates and roommates at Yale have come out to speak both on his behalf and against him throughout the past week. While Ludington maintains that Kavanaugh was belligerent when he was drunk, another of Kavanaugh's former roommates, Dan Murphy, argued the opposite in a recent statement, at least in regard to women.
Murphy said on Monday, "I never saw Brett black out or not be able to remember the prior evening's events, nor did I ever see Brett act aggressive, hostile, or in a sexually aggressive manner to women."
As for Kavanaugh, he confirmed to the Senate Judiciary Committee last Thursday that he has never blacked out or become incoherent from drinking. In a particularly notable exchange with Sen. Amy Klobuchar during his hearing, Kavanaugh answered her question about whether he'd ever drank to the point of losing memory by saying, "I don't know. Have you?"
She replied, "I have no drinking problem."
Kavanaugh said back, "Yeah, nor do I."