Most Americans Think Trump's First Year Was A Failure — Including This Surprising Group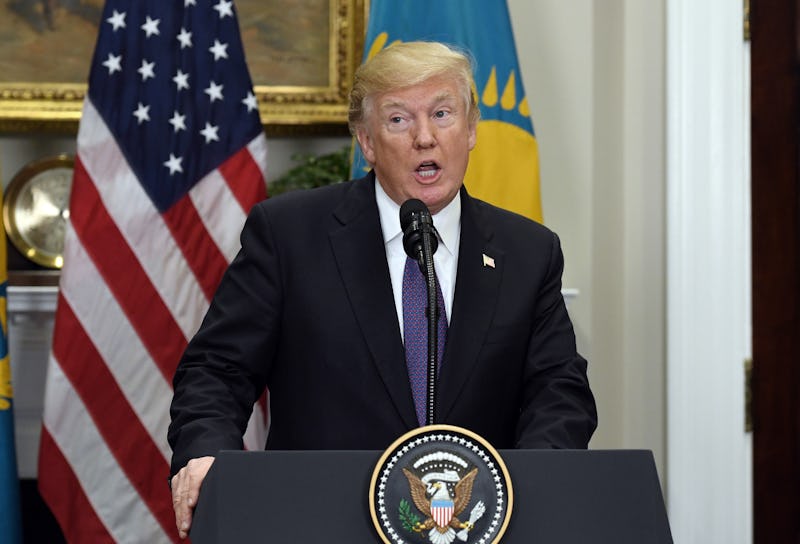 Pool/Getty Images News/Getty Images
NPR released the results of a poll on Thursday that surveyed the country's opinions on Donald Trump's first year in office, and it doesn't look good for the president or for Republicans trying to get elected in the upcoming midterms. A majority of Americans consider Trump's term to have been a failure, think that the country is heading in the wrong direction, disapprove of his use of Twitter, and believe that he's divided the nation since entering office.
The poll, which NPR conducted alongside PBS NewsHour and Marist, does show some more positive results for Trump. Republican respondents rated him well in most categories, though by smaller percentages than the Democrats' expressions of disapproval. Republicans particularly like how he has handled ISIS, immigration, and the economy.
But independents view Trump more negatively than they have at other times during his presidency. Independents are considered to be one of the key demographics that will decide the 2018 elections.
Exit polls from the 2016 presidential race showed that nearly 90 percent of Democrats and Republicans voted along party lines but that independents swung to Trump by a four-point margin. Trump managed only a slim victory of around 80,000 votes in key states, so these margins have the ability to make all the difference. In this new NPR poll, a 44 percent plurality of independents said that Trump's first year in office had fallen below their expectations, and only 38 percent said they approve of his performance so far.
Fifty-three percent of Americans consider Trump's first year to have been a failure (33 percent of them actually said that it was a "major failure"). Twenty-five percent of respondents called his term a success, and 15 percent said that it was a "major success."
More than 40 percent of people surveyed believe that the American economy has gotten better during Trump's presidency. About 35 percent think it is unchanged, while only 18 percent think that it has gotten worse. Most other categories, however, were not as favorable. At least 54 percent think that foreign policy has gotten worse, and 56 percent think that race relations have deteriorated.
Over 60 percent — including 90 percent of Democrats and 59 percent of independents — said that Trump has divided the country, versus 32 percent who said that he has not. Seventy-eight percent said that the president's use of Twitter is "a risky way to communicate," including 57 percent of Republicans. Only 15 percent of respondents said that his Twitter habits were "sending the right message."
NPR also compares Trump's survey results to Obama's at the same point in the latter's presidency. Obama did more positively in some categories — 42 percent said that he had met their expectations, to Trump's 33 percent; 44 percent said the United States was changing positively, to Trump's 36 percent — but he also faced largely negative poll numbers after his first year.
Still, it's undeniable that "the first-year grades for Trump are not good," as the Marist Institute's Lee Miringoff summarized for NPR.
"He remains with his base intact and not much else," the assistant professor of political science said. "People remain doubtful in the institutions of our government, doubtful in how he's communicating things and how he's handling things. It's not a pretty picture for the president after the first year."